News
Statue of Roosevelt To Be Removed From the Front of New York Museum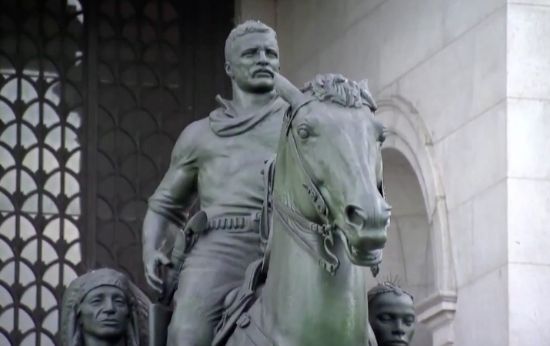 The Theodore Roosevelt statue in front of the American Museum of Natural History will be coming down.
The New York City Public Design Commission voted unanimously at a public meeting on Monday to take it down and relocate it to an institution dedicated to Roosevelt's life and legacy, according to The New York Times.
The museum in June 2020 proposed removing the statue and New York City Mayor Bill de Blasio (D) voiced his support for the move at the time.
Advertisement - story continues below
"The American Museum of Natural History has asked to remove the Theodore Roosevelt statue because it explicitly depicts Black and Indigenous people as subjugated and racially inferior," he said in a statement.
He added, "The City supports the Museum's request. It is the right decision and the right time to remove this problematic statue."
Sam Biederman of the New York City Parks Department said during Monday's meeting although the statue "was not erected with malice of intent," its composition "supports a thematic framework of colonization and racism."
President Trump said he opposed removing the statue of Theodore Roosevelt from outside NYC's American Museum of Natural History. The statue shows Roosevelt on a horse, with a Native American man and an African man by his side https://t.co/A76mDr0M9t pic.twitter.com/AyDCbG4mfb

— Reuters (@Reuters) June 22, 2020
Advertisement - story continues below
Dan Slippen, vice president of government relations at the museum, also said during the meeting, "The understanding of statues and monuments as powerful and hurtful symbols of systemic racism became even more evident in the wake of the movement for racial justice that emerged after the murder of George Floyd."
He continued, "It has become clear that removing the statue would be a symbol of progress toward an inclusive and equitable community."
In 2020, more than 90 Confederate monuments were taken down or moved from public spaces following the death of George Floyd, according to USA Today, which cites the Southern Poverty Law Center.
Truth and Accuracy
We are committed to truth and accuracy in all of our journalism. Read our editorial standards.
Conversation