News
'A Straight Bob for Bob Swap': Disney Replaces CEO With Predecessor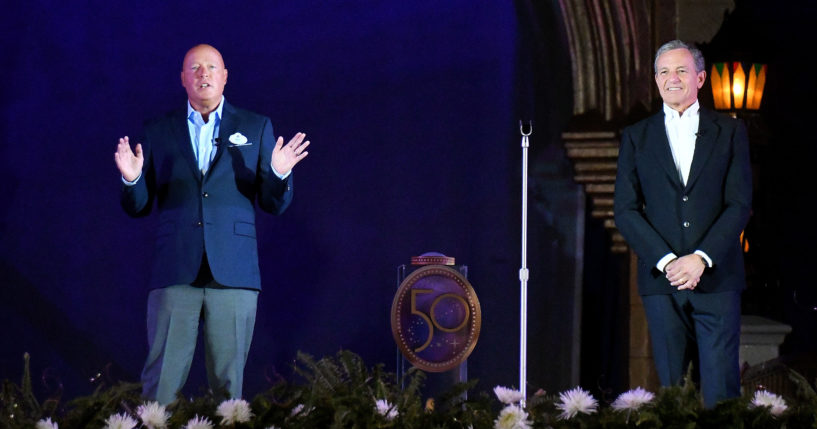 Bob Iger is once again serving as CEO of The Walt Disney Company.
The company announced on Sunday Iger would be replacing Bob Chapek who has served as the company's CEO since 2020.
Iger previously spent more than four decades at The Walt Disney Company and served as its CEO for 15 of those years.
Advertisement - story continues below
"We thank Bob Chapek for his service to Disney over his long career, including navigating the company through the unprecedented challenges of the pandemic," Susan Arnold, chairman of the board, said in a statement.
She added, "The Board has concluded that as Disney embarks on an increasingly complex period of industry transformation, Bob Iger is uniquely situated to lead the Company through this pivotal period."
Arnold said Iger "has the deep respect of Disney's senior leadership team, most of whom he worked closely with until his departure as executive chairman 11 months ago, and he is greatly admired by Disney employees worldwide—all of which will allow for a seamless transition of leadership."
Iger said in a statement of his own he is "extremely optimistic for the future of this great company and thrilled to be asked by the Board to return as its CEO."
Advertisement - story continues below
He added, "Disney and its incomparable brands and franchises hold a special place in the hearts of so many people around the globe—most especially in the hearts of our employees, whose dedication to this company and its mission is an inspiration. I am deeply honored to be asked to again lead this remarkable team, with a clear mission focused on creative excellence to inspire generations through unrivaled, bold storytelling."
As The Recount wrote, it is "a straight Bob for Bob swap."
A straight Bob for Bob swap https://t.co/8OfJGbfqG2 pic.twitter.com/XDZTROspLv

— The Recount (@therecount) November 21, 2022
In 2021, Iger shared why he initially left the company.
"Over time, I started listening for less and maybe with a little less tolerance of other people's opinions, maybe because of getting a little bit more overconfident in my own, which is sometimes what happens when you get built up," he told CNBC.
Advertisement - story continues below
Iger acknowledged he "became a little bit more dismissive of other people's opinions than I should have been."
According to the company's CEO, "That was an early sign that it was time. It wasn't the reason I left, but it was a contributing factor."
CNN reported investors were thrilled with the news and sent Disney shares 9% Monday.
Truth and Accuracy
We are committed to truth and accuracy in all of our journalism. Read our editorial standards.
Comment Down Below
Conversation