News
Susan Collins Calls the Police Over Message in Chalk in Front of Her Home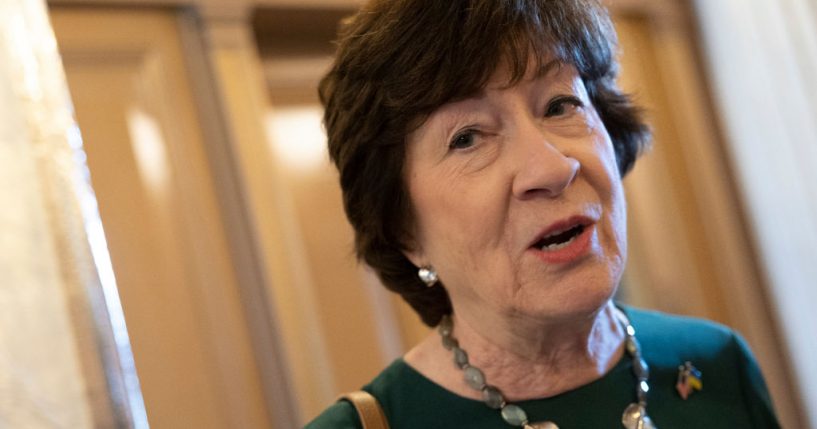 Sen. Susan Collins (R-Maine) called the police over a chalk message left in front of her home urging her to vote to codify abortion rights into law.
Bangor Daily News reported, "Sen. Susan Collins called police over the weekend after an unknown person or persons wrote a pro-abortion rights message in chalk on the sidewalk outside her West Broadway home in Bangor."
The message read, "Susie, please, Mainers want WHPA —–> vote yes, clean up your mess."
Advertisement - story continues below
WHPA stands for the Women's Health Protection Act.
Spokesperson Wade Betters said, "The message was not overtly threatening," as the outlet reported.
Collins told the outlet in a statement, "We are grateful to the Bangor police officers and the City public works employee who responded to the defacement of public property in front of our home."
This is the "public defacement" of a public sidewalk that Senator Susan Collins thought was worth calling the police for.

Sidewalk chalk. In pastel colors. And she CALLED THE POLICE. pic.twitter.com/bMIGWPDJLp

— Kendall Brown (@kendallybrown) May 10, 2022
Advertisement - story continues below
Last week, Collins voiced her opposition to the legislation.
"It supersedes all other federal and state laws, including the conscience protections that are in the Affordable Care Act," Collins told reporters.
She added, "It doesn't protect the right of a Catholic hospital to not perform abortions. That right has been enshrined in law for a long time."
Both Collins and Sen. Lisa Murkowski (R-Alaska) voted against a version of the legislation earlier this year.
Senate Majority Leader Chuck Schumer (D-N.Y.) commented on concerns surrounding the bill at a news conference last week.
Advertisement - story continues below
"Some are saying that this legislation would tell hospitals — certain religious hospitals — that they have to perform abortions," Schumer said.
He continued, "That is simply not true. This bill simply gives providers the statutory right to provide abortion care without medically unnecessary restrictions. That's plain and simple. So, this rumor is false."
The Senate is expected to vote on the bill Wednesday.
NPR pointed out it is unlikely the bill will pass.
Advertisement - story continues below
Still, Democrats were able to get the support of  Sen. Bob Casey (D-Pa.), as IJR reported.
Truth and Accuracy
We are committed to truth and accuracy in all of our journalism. Read our editorial standards.
Comment Down Below
Conversation