News
Treasury Secretary Admits She Was 'Wrong' About the Path of Inflation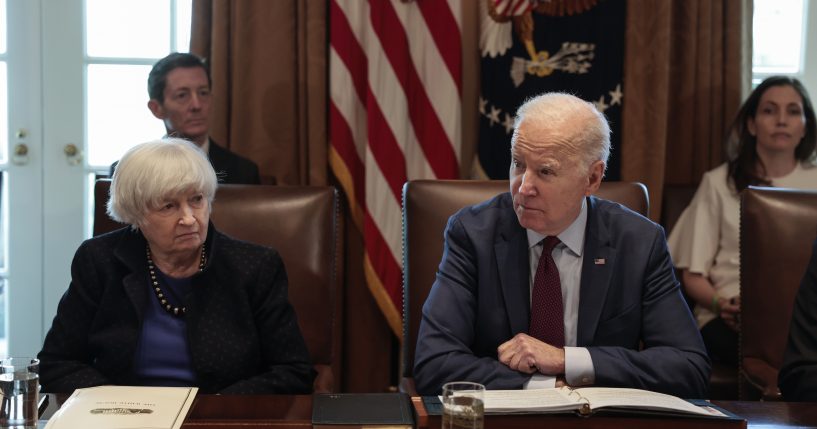 U.S. Treasury Secretary Janet Yellen made an admission about her inflation prediction, saying she was "wrong."
During an interview with CNN, Yellen explained, "I think I was wrong then about the path that inflation would take."
She added, "As I mentioned, there have been unanticipated and large shocks to the economy that have boosted energy and food prices and supply bottlenecks that have affected our economy badly that I didn't at the time fully understand."
Advertisement - story continues below
Yellen continued, "So really, the shocks to the economy have continued, but inflation is the number one concern for President Biden."
Watch Yellen's comments below:
.@SecYellen on inflation being transitory: "I was wrong then about the path that inflation would take. As I mentioned, there have been unanticipated and large shocks to the economy […] that I, at the time, didn't fully understand." https://t.co/AlrXn4kT0r pic.twitter.com/9tqxo0iA3B

— The Hill (@thehill) June 1, 2022
In March, Yellen suggested Americans could experience another year of high inflation.
Advertisement - story continues below
"We're likely to see another year in which 12-month inflation numbers remain very uncomfortably high," Yellen said in an interview with CNBC.
Yellen claimed the conflict in Ukraine has only made inflation worse while driving a "very meaningful increase in gas prices."
Are you concerned about inflation?
At the time, Yellen explained she believes the next month would show "further evidence of an impact on U.S. inflation of Putin's war on Ukraine."
In November 2021, Yellen predicted inflation would ease in 2022.
"I expect that next year, many of the supply bottlenecks that we're experiencing now in opening up our economy will recede," Yellen said during an interview with NPR.
Advertisement - story continues below
She continued, "Sometime during the second half of the year we'll see inflation rates moving back toward the 2% that we regard as normal."
On Monday, President Joe Biden published an op-ed in The Wall Street Journal detailing his plan to fight inflation, as IJR reported.
"Americans are anxious. I know that feeling. I grew up in a family where it mattered when the price of gas or groceries rose. We felt it around the kitchen table," Biden wrote.
He added, "But the American people should have confidence that our economy faces these challenges from a position of strength."
Advertisement - story continues below
Inflation currently stands at a 40-year high.
Truth and Accuracy
We are committed to truth and accuracy in all of our journalism. Read our editorial standards.
Comment Down Below
Conversation