News
Trump Allies Share Nicknames the Former President Has Considered for DeSantis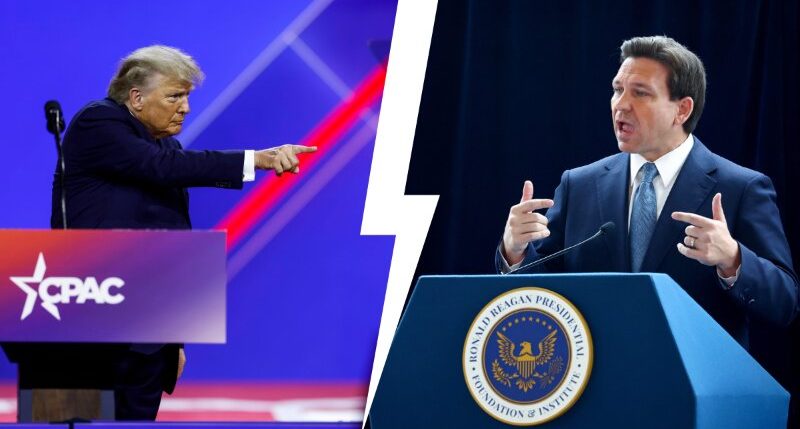 Former President Donald Trump has considered more nicknames for Florida Gov. Ron DeSantis (R), according to his allies.
Bloomberg reported Trump is currently spending his time at his resort in Palm Beach, Florida, golfing and plotting his "political comeback."
The outlet explained a lot of Trump and his team's time is "spent bemoaning his lack of coverage by Fox News and other cable networks, griping about his 2020 re-election defeat — something he's very much not letting go — and workshopping new nicknames for his chief rival in GOP politics, Florida Governor Ron DeSantis."
Advertisement - story continues below
Allies told Bloomberg Trump appears to be settling with "Ron DeSanctimonious."
However, other ideas Trump has considered include: "Ron DisHonest," "Ron DeEstablishment," and "Tiny D."
Additionally, according to the report, Trump's team has spent a decent amount of time attempting to uncover dirt on DeSantis's record as Florida's governor, his wife, Casey, and his time teaching at a Georgia boarding school.
Trump appeared to take aim at DeSantis while speaking at the Conservative Political Action Conference (CPAC) over the weekend.
Advertisement - story continues below
"We're not going back to people that want to destroy our great Social Security system," Trump said. "Even some in our own party."
He added, "I wonder who that might be."
Do you find the nicknames funny?
As NBC News noted, DeSantis recently walked back on his stance of increasing the retirement age and privatizing Social Security and Medicare.
Before speaking at CPAC, Trump was asked if he would consider DeSantis for a potential running mate.
"I've always had a good relationship with him," Trump said, adding, "But it's much too early to talk about."
Advertisement - story continues below
During his speech, Trump also took aim at his political enemies.
"If you put me back in White House, their reign is over," he said.
Trump continued, "In 2016, I declared, 'I am your voice.' Today, I add, I am your warrior. I am your justice. And for those who have been wronged and betrayed, I am your retribution."
The former president won the CPAC straw poll with 62%.
Advertisement - story continues below
DeSantis raked in only 20% of the support.
Last year, Trump won the straw poll with 59% while DeSantis only garnered 28%.
Truth and Accuracy
We are committed to truth and accuracy in all of our journalism. Read our editorial standards.
Comment Down Below
Conversation