News
Trump Attorney Shares Whether Former President Plans to Participate in Manhattan Grand Jury Probe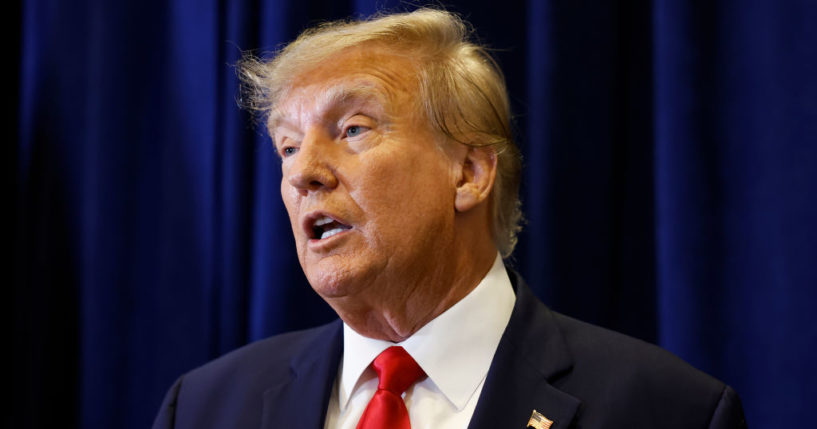 Amid a report prosecutors in New York City may be preparing to indict former President Donald Trump, his lawyer is sharing whether he plans to participate in the investigation.
The New York Times reported Thursday that prosecutors in the Manhattan district attorney's office signaled to Trump's lawyers he may face charges "for his role in the payment of hush money to a porn star."
And on Monday, Trump's attorney Joe Tacopina was asked by ABC News' George Stephanopoulos if the former president would cooperate with the investigation.
Advertisement - story continues below
"We have no plans on participating in that proceeding," Tacopina responded.
He added, "It's a decision that needs to be made still. There's been no deadline set, so we'll wait and see."
Watch the video below:
FIRST ON GMA: Former Pres. Trump's lawyer Joe Tacopina speaks about Trump's invitation to testify before grand jury.@GStephanopoulos pic.twitter.com/We1Ku2LFAp

— Good Morning America (@GMA) March 13, 2023
Advertisement - story continues below
When he was asked if he expects there to be an indictment, Tacopina said, "I expect justice to prevail. If that's the case, George, there shouldn't be an indictment."
Tacopina claimed prosecutors are "distorting laws to try and bag President Trump."
Should Trump testify before the grand jury?
"Clearly, this prosecutor and this prosecutor's office has made an agenda of trying to get him," he insisted.
The investigation is related to a $130,000 payment to porn star Stormy Daniels, who claimed she had an affair with Trump, which was made in the final days of the 2016 campaign.
Tacopina declined to share whether Trump authorized the payment in 2016. However, he insisted it was not related to the presidential campaign.
Advertisement - story continues below
The New York Times noted offers to testify before a grand jury "almost always indicate an indictment is close; it would be unusual for the district attorney, Alvin L. Bragg, to notify a potential defendant without ultimately seeking charges against him."
A spokesman for the former president blasted the investigation in a statement last week, saying, "The Manhattan District Attorney's threat to indict President Trump is simply insane."
"It's an embarrassment to the Democrat prosecutors, and it's an embarrassment to New York City," he added.
Trump also shared a lengthy statement on Truth Social attacking the investigation. He wrote, "I did absolutely nothing wrong, I never had an affair with Stormy Daniels, nor would I have wanted to have an affair with Stormy Daniels."
Advertisement - story continues below
"This is a political Witch-Hunt, trying to take down the leading candidate, by far, in the Republican Party," he continued.
Finally, Trump wrote, "I, and hundreds of millions of the American people backing me, because they want to see our nation be great again, are the victims of this corrupt, depraved, and weaponized justice system."
Truth and Accuracy
We are committed to truth and accuracy in all of our journalism. Read our editorial standards.
Comment Down Below
Conversation