News
Trump Shares Why He Believes Milley Has Not Been Fired After Reported Call With Chinese Counterpart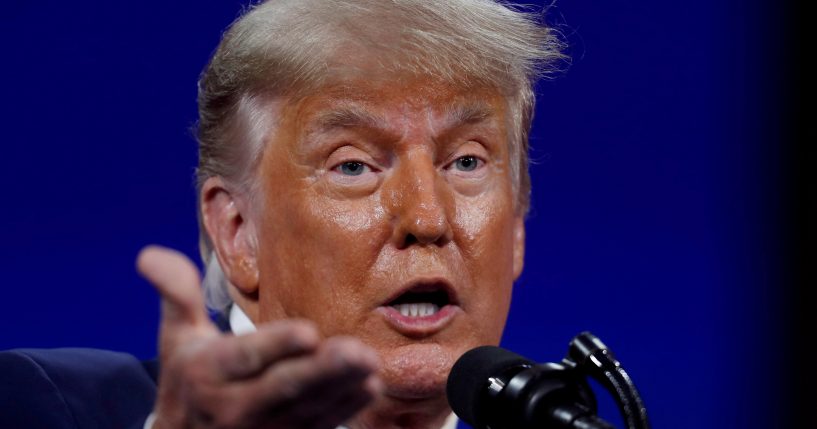 Former President Donald Trump is sharing a reason why he believes President Joe Biden will not fire Gen. Mark Milley, the chairman of the Joint Chiefs of Staff.
In a statement on Wednesday, Trump said, "Milley never told me about calls being made to China. From what I understand, he didn't tell too many other people either. He put our Country in a very dangerous position but President Xi knows better, and would've called me."
"The way Milley and the Biden Administration handled the Afghanistan withdrawal, perhaps the most embarrassing moment in our Country's history, would not exactly instill fear in China," he continued.
Advertisement - story continues below
Finally, he said, "Milley is a complete nutjob! The only reason Biden will not fire or court-martial Milley is because he doesn't want him spilling the dirty secrets on Biden's deadly disaster in Afghanistan."
Read the statement below:
Former President Trump issues a statement on General Milley: pic.twitter.com/U3e811tYzd

— Byron York (@ByronYork) September 16, 2021
Trump's statement comes after an excerpt of the new book "Peril" by Bob Woodward and Robert Costa of The Washington Post, revealed that Milley was so concerned that former President Donald Trump would start a war with China that he contacted his Chinese counterpart to assure them that the U.S. could not conduct a strike.
Advertisement - story continues below
As the Post reports, "In the book's account, Milley went so far as to pledge he would alert his counterpart in the event of a U.S. attack, stressing the rapport they'd established through a backchannel. 'General Li, you and I have known each other for now five years. If we're going to attack, I'm going to call you ahead of time. It's not going to be a surprise.'"
Trump blasted Milley during an interview on Newsmax earlier this week and accused him of treason, as IJR reported.
His statement also referenced criticism of the Biden administration's execution of the withdrawal from Afghanistan.
On Wednesday, White House Press Secretary Jen Psaki said she would not "add or speak to anonymous reports."
However, she added, "What I can assure you all of is that the president knows Gen. Milley. He has been chairman of the Joint Chiefs for almost eight months of his presidency. They've worked side-by-side through a range of international events. The president has complete confidence in his leadership, his patriotism, and his fidelity to our Constitution."
Truth and Accuracy
We are committed to truth and accuracy in all of our journalism. Read our editorial standards.
Comment Down Below
Conversation