Trump Says Biden Talks About COVID-19 So Much Because He Is Trying to 'Scare People'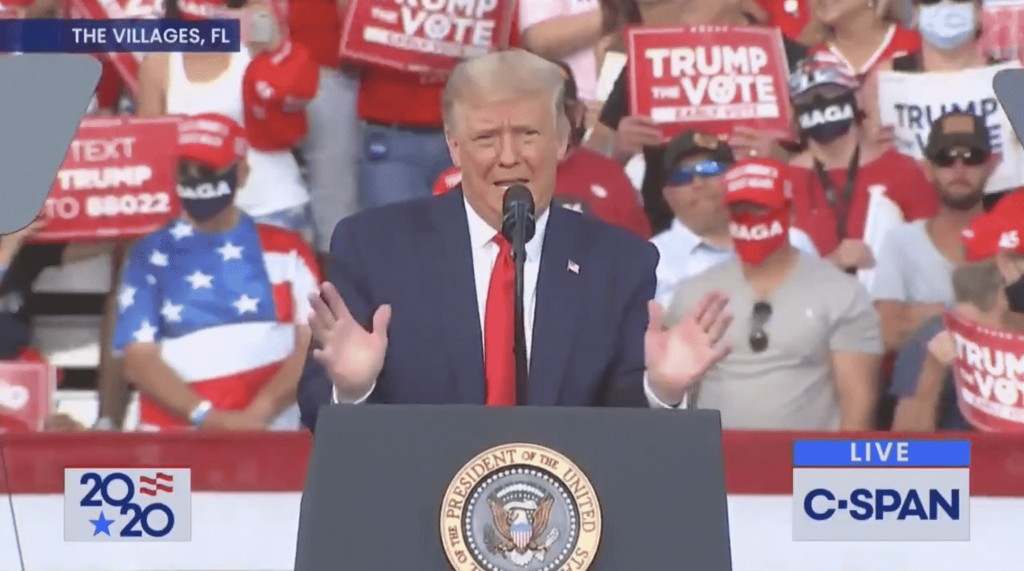 President Donald Trump is accusing Democratic presidential nominee Joe Biden of instilling fear among Americans by dwelling on the COVID-19 pandemic.
"All he talks about is COVID, COVID, COVID because they want to scare people and we've done so well with it. Now it's 99.8%. I mean you look at what's going on and we're rounding the turn, we're rounding the corner. We're rounding the corner beautifully," Trump said during a rally in Florida Friday.
Watch his remarks below:
Trump accuses Biden of talking about Covid so much because he "wants to scare people." In the next breath he reminisces about Rush Limbaugh referring to Obama as "Barack Hussein Obama." pic.twitter.com/Q1Lj4iul66

— Aaron Rupar (@atrupar) October 23, 2020
Trump's comments come just one day after he touted his pandemic response during the final presidential debate, as IJR previously reported.
He is adamant Americans are "learning to live" with COVID-19.
Trump claimed it is because "we can't lock ourselves up in a basement" and "people can't do that."
Biden tore into Trump for failing to protect the American people.
"He says that we're learning to live with it. People are learning to die with it. You folks home who have an empty chair at the kitchen table this morning, that man or wife going to bed tonight and reaching over to try to touch out of habit where their wife or husband was is gone," Biden said. "Learning to live with it? Come on. We're dying with it."
On Thursday, Florida reported more than 5,500 new cases, marking its highest single-day increase since August 15, as IJR previously reported.
According to a report released by Columbia University on Wednesday, between 130,000 and 210,000 COVID-19 American deaths could have been avoided.
It called the federal government's handling of the outbreak an "enormous failure."
On Oct. 22, the United States reported at least 828 new coronavirus related deaths and 75,064 new cases.
Since the onset of the outbreak, more than 8,498,200 Americans have been infected and at least 223,400 have died.