News
Trump Calls Reports of His January 6 Response 'Made Up Stories'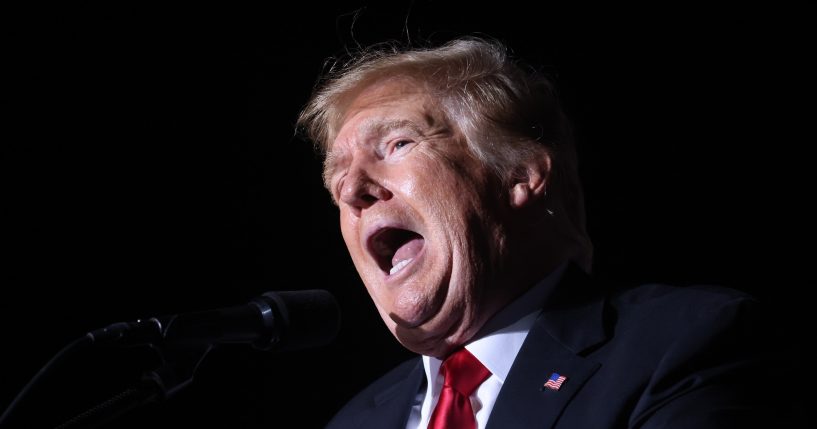 Former President Donald Trump is firing back at reports detailing his response to the January 6 riot at the U.S. Capitol, calling them "made up stories."
In a fiery statement released on Tuesday, Trump said, "Not even possible to believe the lies, exaggerations, and outright fraud committed by very poorly rated Morning 'News' Shows about the January 6th protest. They say whatever comes to their mind, like writing a fictional novel."
He accused the media of losing "its way at a level that is not even believable," adding, "Books, likewise, are made up stories and should only be sold as fiction. These are terrible human beings that do this to our Country."
Advertisement - story continues below
Trump claimed the 2020 election "was a fraud rife with errors, irregularities, and scandal. The Radical Left knows it, the media knows it, and the Patriots of our Country know it, and now the U.S.A. is paying a big price—it is very sadly going to hell!"
His statement comes just after ABC News' Jonathan Karl revealed details about the former president's January 6 response included in his book, "Betrayal: The Final Act of the Trump Show," as IJR reported.
Karl reported that one of Trump's aides said he had to tape a message telling his supporters to go home "several times before they thought he got it right."
Additionally, he pointed out in earlier versions of the tape, Trump neglected to tell his supporters to go home.
Advertisement - story continues below
Earlier this month, Trump released another statement claiming January 6 was not the "real insurrection," as IJR reported.
"The Unselect Committee of partisan Democrats, and two very weak and pathetic RINOs, should come to the conclusion after spending many millions of dollars, that the real insurrection happened on November 3rd, the Presidential Election, not on January 6th — which was a day of protesting the Fake Election results," Trump said.
Truth and Accuracy
We are committed to truth and accuracy in all of our journalism. Read our editorial standards.
Conversation