News
Trump Considered Withdrawing His Nomination of Brett Kavanaugh: Book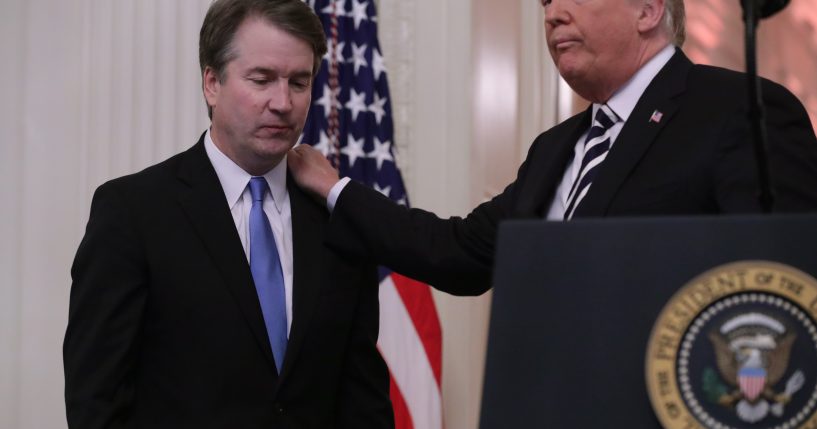 Former President Donald Trump thought about withdrawing his nomination of Supreme Court Justice Brett Kavanaugh, according to a book.
Trump's former chief of staff, Mark Meadows, wrote a book detailing the administration's inner workings titled, "The Chief's Chief."
As Politico reported, Trump "strongly considered" withdrawing his nomination and going with a "stronger candidate." The outlet noted it was not because of the sexual assault allegations made against him by Christine Blasey Ford but because Kavanaugh said he "liked beer" and appeared too apologetic.
Advertisement - story continues below
According to Meadows, Trump was "extremely put off" by the comment. He told Trump not to withdraw his nomination due to the fear that the "blowback would be severe."
Kavanaugh denied the allegations during his testimony before the Senate Judiciary Committee in 2018. He was later confirmed to the Supreme Court.
"He's going to go down as a totally brilliant Supreme Court justice for many years," Trump told reporters at the time.
The former president also commented on how women felt about the nomination.
Advertisement - story continues below
"Women, I feel, were in many ways stronger than the men in this fight," Trump said. "Women were outraged at what happened to Brett Kavanaugh. Outraged."
Politico also noted Meadows' book "defends Trump's false claims of a stolen election, offers intimate details about the state of Trump's health, takes shots at Trump critics and echoes Trump's paranoia about leaks to the press as he speculates by name about who exactly was talking to reporters."
Meadows announced Tuesday he would no longer cooperate with the House select committee investigating the January 6 riot at the U.S. Capitol, as IJR reported.
"We agreed to provide thousands of pages of responsive documents, and Mr. Meadows was willing to appear voluntarily, not under compulsion of the Select Committee's subpoena to him, for a deposition to answer questions about non-privileged matters," George J. Terwilliger III, Meadows' attorney, told the committee in a letter.
He added, "In short, we now have every indication from the information supplied to us last Friday – upon which Mr. Meadows could expect to be questioned – that the Select Committee has no intention of respecting boundaries concerning Executive Privilege."
Advertisement - story continues below
Still, Terwilliger said Meadows might think about answering written questions "so that there might be both an orderly process and a clear record of questions and related assertions of privilege where appropriate."
Truth and Accuracy
We are committed to truth and accuracy in all of our journalism. Read our editorial standards.
Comment Down Below
Conversation