News
Trump Files Lawsuit Against New York Attorney General to Block Investigation Into His Business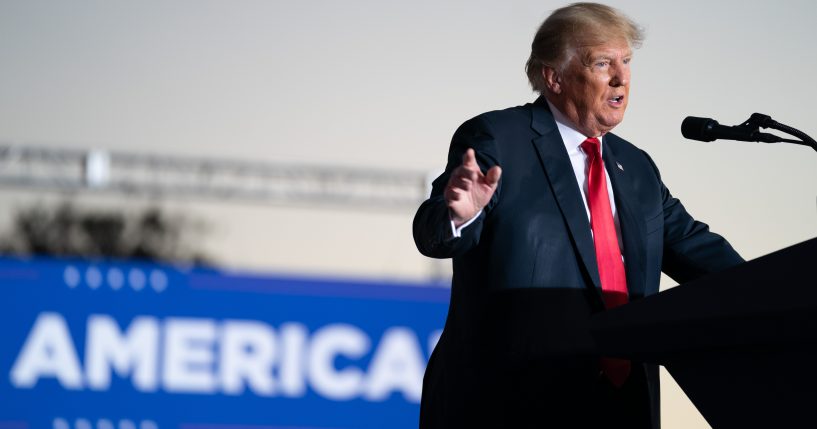 Former President Donald Trump is suing New York Attorney General Letitia James (D), saying her investigation into his business is an effort to "publicly malign" him and his associates.
Trump filed the lawsuit to block James' investigation. Trump's attorney said in the lawsuit James is "untrusted with a great deal of power which she is obligated to use in a resolute and unbiased manner."
The lawsuit continues, "Rather than embrace this responsibility, James has instead chosen to exploit it."
Advertisement - story continues below
According to the complaint, James has "tirelessly bombarded him, his family and his business, Trump Organization LLC, with unwarranted subpoenas in a bitter crusade to 'take on' the president."
The former president's lawsuit suggests the investigations commenced by James "are in no way connected to legitimate law enforcement goals, but rather, are merely a thinly-veiled effort to publicly malign Trump and his associates."
It goes on, "Her mission is guided solely by political animus and a desire to harass, intimidate, and retaliate against a private citizen who she views as a political opponent."
James responded to the lawsuit in a statement.
Advertisement - story continues below
"The Trump Organization has continually sought to delay our investigation into its business dealings and now Donald Trump and his namesake company have filed a lawsuit as an attempted collateral attack on that investigation," James said.
She added, "To be clear, neither Mr. Trump nor the Trump Organization get to dictate if and where they will answer for their actions. Our investigation will continue undeterred because no one is above the law, not even someone with the name Trump."
As Fox News notes, James' office reportedly requested that Trump appears for a deposition in early January. The outlet also pointed out James' investigation has lasted more than two years and is looking into whether the Trump organization lied about the value of its assets.
Truth and Accuracy
We are committed to truth and accuracy in all of our journalism. Read our editorial standards.
Comment Down Below
Conversation