Commentary
Trump Offers New Defense of His Handling of Classified Documents at Mar-a-Lago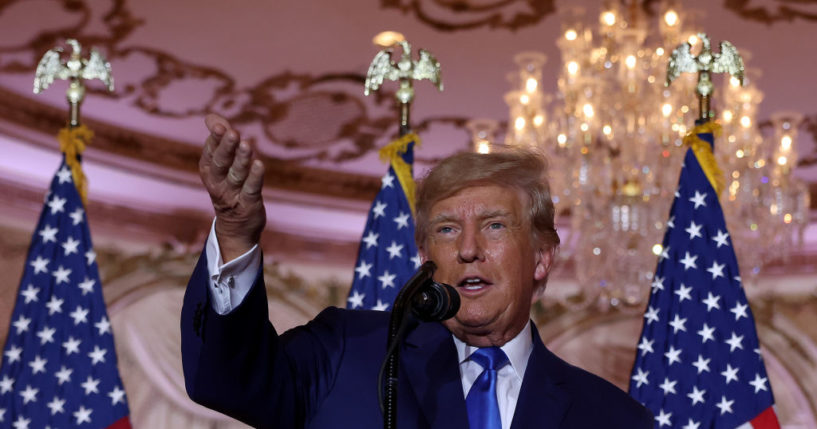 Former President Donald Trump is issuing a new defense for his handling of classified documents.
The news classified documents from President Joe Biden's time as vice president have been discovered at various locations has sparked a comparison between the investigations into his and Trump's handling of such materials.
However, some have argued there is a difference between Trump's and Biden's cases, partly because of the disparity in the number of documents recovered.
Advertisement - story continues below
Federal law enforcement officials reportedly recovered more than 300 classified documents from Trump's Mar-a-Lago resort. Meanwhile, the number of documents recovered so far from Biden's home and the Penn Biden Center is far smaller.
In an apparent response to those pointing out the disparity in the number of documents recovered, Trump took to his Truth Social to try to make Biden's situation look far worse.
"The Fake News Media [and] Crooked Democrats (That's been proven!) keep saying I had a 'large number of documents' in order to make the Biden Classified Docs look less significant," he wrote.
He continued, "When I was in the Oval Office, or elsewhere, [and] 'papers' were distributed to groups of people [and] me, they would often be in a striped paper folder with 'Classified' or 'Confidential' or another word on them."
Advertisement - story continues below
Trump went on:
"When the session was over, they would collect the paper(s), but not the folders, [and] I saved hundreds of them. Remember, these were just ordinary, inexpensive folders with various words printed on them, but they were a 'cool' keepsake. Perhaps the Gestapo took some of these empty folders when they Raided Mar-a-Lago, [and] counted them as a document, which they are not."
He also suggested it was possible someone planted classified documents in his case.
Finally, Trump wrote, "As President, and based on the Presidential Records and [and] Socks Case, I did NOTHING WRONG. JOE DID!"
There may be some truth to Trump's claim about simply taking empty folders to Mar-a-Lago. The New York Times reported in September that the FBI recovered 48 empty folders.
Advertisement - story continues below
However, it was unclear whether the folders were empty when they were brought to the resort, or if they contained classified documents at one point.
And, of course, if Trump's argument is he just took 300 empty folders with him to Mar-a-Lago, why would he not say so back in August?
Instead, he claimed materials taken to Mar-a-Lago were declassified.
And if they were just empty folders with only the word "classified" on them, they probably would not need to be declassified.
Advertisement - story continues below
Perhaps he did take some empty folders as keepsakes. But his initial response to the Mar-a-Lago search seems to disprove the notion that most of the documents recovered were just empty folders.
Truth and Accuracy
We are committed to truth and accuracy in all of our journalism. Read our editorial standards.
Comment Down Below
Conversation