News
Trump Shares Photoshopped Image Mocking Cheney and Bush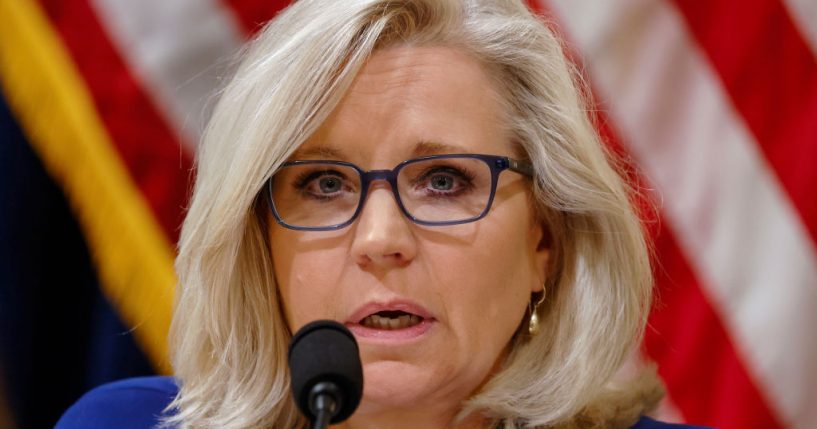 Former President Donald Trump is continuing his attack on Rep. Liz Cheney (R-Wyo.) and former President George W. Bush.
Calling it a "must-see photo," Trump shared in an email on Thursday evening a photo that portrays Bush's face with Cheney's glasses and hair.
Check out the photo below:
Advertisement - story continues below
Trump sent this photo out from his "office" of Liz Cheney and President Bush cropped together. Yes, this actually came from a former President of the United States, not a teen boy in his parent's basement. The same man who had access to the nuclear codes. pic.twitter.com/PPbXbLNQvj

— Mike Sington (@MikeSington) September 24, 2021
This came shortly after Trump torched Bush for his support of Cheney, as Bush will be fundraising for her next month, as The Wall Street Journal reports.
Trump wrote in a statement on Wednesday, "RINO former President George 'Dubya' Bush and his flunky Karl Rove are endorsing warmongering and very low polling, Liz Cheney," as IJR reported on.
NEW: Donald Trump drags "RINO" George W. Bush, Rep. Liz Cheney in new statement. pic.twitter.com/nAbPiv0rOk

— Breaking911 (@Breaking911) September 23, 2021
Advertisement - story continues below
The Wyoming lawmaker was one of 10 House Republicans who voted to impeach Trump on the charge of "incitement of insurrection."
Cheney, the daughter of his former Vice President Dick Cheney, is also part of the January 6 select committee investigating the U.S. Capitol riot on January 6.
In May, she was ousted from her leadership post as the No. 3 House Republican.
Trump endorsed Cheney's primary challenger, Wyoming attorney Harriet Hageman.
"Unlike RINO Liz Cheney, Harriet is all in for America First. Harriet has my Complete and Total Endorsement in replacing the Democrats number one provider of sound bites, Liz Cheney," he previously wrote in a statement.
Advertisement - story continues below
Cheney reacted to Trump's endorsement, writing on Twitter, "Here's a sound bite for you: Bring it."
Despite criticism from Trump, Cheney has seen an increase in campaign funds. According to Fox News, she raised $1.5 million during the first quarter of 2021 and an additional $1.9 million in the second quarter.
Truth and Accuracy
We are committed to truth and accuracy in all of our journalism. Read our editorial standards.
Comment Down Below
Conversation