Commentary
Trump-Backed Primary Challengers Fall Short in Georgia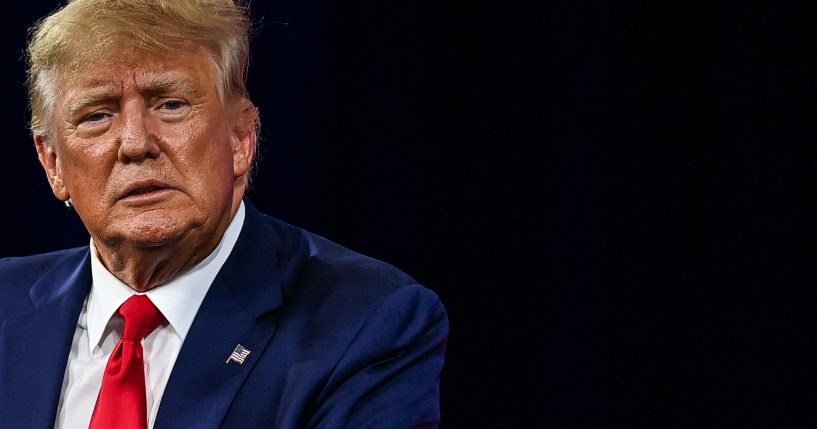 Former President Donald Trump's track record of endorsing winning candidates suffered a big blow in high-profile primary elections in Georgia.
Of the primaries so far, Georgia has handed Trump his most significant and most embarrassing losses.
Governor:
Advertisement - story continues below
On the top of the ticket for state elections, Trump's effort to retaliate against Georgia Gov. Brian Kemp (R) failed — bigly.
There seems to have been friction with Kemp going back to 2019 when he chose to appoint Kelly Loeffler to fill a Senate seat.
However, Trump's ire with the incumbent governor really ratcheted up after Kemp refused to go along with claims that the 2020 election was stolen and certified the results for the state.
Since then, Trump has railed against Kemp and suggested that Democrat Stacey Abrams would make a better governor.
Advertisement - story continues below
He chose to endorse former Sen. David Perdue in his primary bid against Kemp, and his super PAC dropped an eye-popping $500,000 in the race to try to defeat the governor.
But as it turns out, Georgians weren't having it with Perdue, who declared in his opening statements in a gubernatorial debate that the election was stolen. This week he lobbed a racially charged attack at Abrams.
Do you think Trump's endorsements carry a lot of weight?
As of Wednesday morning, Kemp was leading Perdue by over 600,000 votes and was winning every county in the state, simply a blowout.
Secretary of State:
Another statewide official who drew Trump's ire for also refusing to go along with his claims and "find" 11,780 votes is Secretary of State Brad Raffensperger.
Advertisement - story continues below
In the aftermath of the 2020 election, Raffensperger — who oversees voting — repeatedly pushed back on the former president's claims of widespread fraud in the state.
While he did not have the clean sweep that Kemp enjoyed, Raffensperger still won his primary with a healthy margin.
As of Wednesday morning, Raffensperger was leading Trump-backed Rep. Jody Hice by roughly 220,000 votes.
Advertisement - story continues below
Attorney General:
Georgia Attorney General Chris Carr also fended off a Trump-backed challenger on Tuesday night.
Carr was leading attorney John Gordon by over 530,000 votes, as of Wednesday morning.
He was the chairman of the Republican Attorneys General Association until 2021, when he reportedly resigned after the organization sent out a robocall telling supporters to "stop the steal" ahead of the Jan. 6 riot at the U.S. Capitol.
Advertisement - story continues below
Carr has told the Associated Press he was "infuriated" by the violence and called it "one of the dark days in American history."
Burt Jones, who is running for lieutenant governor, was leading as of Wednesday morning, but the race was still too close to call.
U.S. House:
Trump-backed Jake Evans and Vernon Jones are heading for run-off elections for Georgia's 6th and 10th Congressional districts, respectively.
Advertisement - story continues below
Meanwhile, Rep. Marjorie Taylor Greene, who Trump endorsed, easily won her primary with an almost 55,000 vote lead as of Wednesday.
U.S. Senate:
Additionally, Trump-backed Hershel Walker walked away with his Senate primary bid with a roughly 640,000 vote lead as of Wednesday morning.
As we saw in Pennsylvania and North Carolina's primaries, Trump's endorsements can help some candidates, but they are by no means a magic wand that is guaranteed to fundamentally alter the outcome of an election.
Advertisement - story continues below
Voters in Georgia may still be frustrated that Trump's election fraud claims likely depressed the vote in the 2021 run-off Senate elections, which cost Republicans any kind of check on President Joe Biden by giving Democrats control of the upper chamber.
They may have just had enough of Trump's petty grievances and grudges.
Truth and Accuracy
We are committed to truth and accuracy in all of our journalism. Read our editorial standards.
Comment Down Below
Conversation