News
Trump Reportedly Eyeing Fox News Host as Someone Who May Turn on Him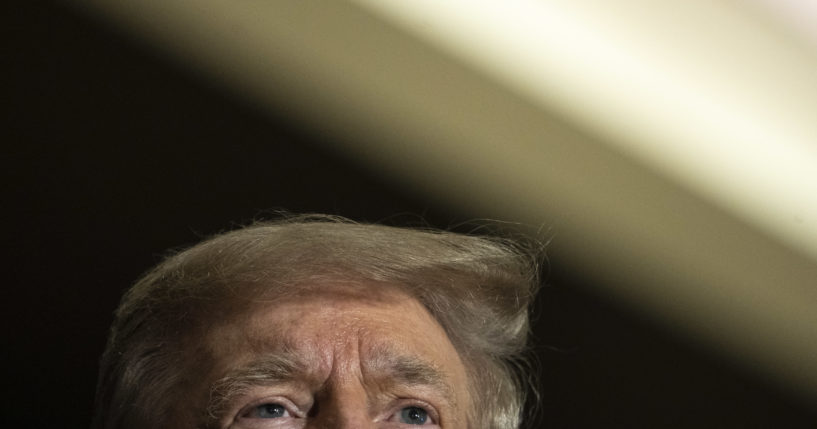 Former President Donald Trump is suspicious about a Fox News anchor who may flip on him, according to a report.
On Tuesday, Rolling Stone reported that two people familiar with the matter said in recent months Trump has "routinely obsessed" over coverage of him and his potential Republican primary opponents by Fox News.
According to the report, in private discussions, the former president "has cataloged which major on-air personalities, hosts, and shows he views as steadfastly all-in 'for Trump,' which ones he sees as possibly defecting, and which he deems 'against Trump.'"
Advertisement - story continues below
The outlet noted Trump "views Sean Hannity as firmly in his column, and has expressed some doubt about which camp Laura Ingraham might end up in come 2024. Per usual, the former president has also asked certain confidants for their opinions on which Fox News regulars and right-wing media stars might be jumping ship from Team Trump."
Still, Trump believes the network will never fully abandon him due to ratings, a source told Rolling Stone.
One source told Rolling Stone Trump "says that Fox watchers love him and that he is 'better' for ratings than any other Republican right now — including DeSantis — and if the Murdochs are smart, they won't ditch him."
During an interview with Northern Virginia Magazine earlier this year, Ingraham opened up about whether she would support Trump in 2024.
Advertisement - story continues below
"I'm not saying I'm there for him yet," Ingraham said.
She added, "But I think whether he runs or not—I mean, his policies worked. Trump's blueprint for policy—a forward-looking, optimistic set of pro-America policies—that blueprint, without a doubt, is winning."
Earlier this week, Trump railed against "Fox & Friends" over the show's coverage of his polling.
"[Fox & Friends] just really botched my poll numbers, no doubt on purpose," Trump wrote.
He added, "That show has been terrible — gone to the 'dark side.' They quickly quote the big Turning Point Poll victory of almost 60 points over the number two Republican, and then hammer me with outliers."
Advertisement - story continues below
And here's Trump's angry post calling Fox & Friends "terrible." Here's clearly triggered by any suggestion that DeSantis could beat him. (2/2) pic.twitter.com/2JnVrO6Hq3

— Aaron Rupar (@atrupar) July 25, 2022
A CNN poll found that 55% of Republican and Republican-leaning voters want someone other than Trump to be the party's nominee.
The outlet noted it is an increase from 49% in a poll from January/February.
The poll was conducted July 22-24 and has an error margin of plus or minus 6.7 points.
Truth and Accuracy
We are committed to truth and accuracy in all of our journalism. Read our editorial standards.
Comment Down Below
Conversation