News
Trump to Publish First Book Since Leaving Office — Includes More Than 300 Photos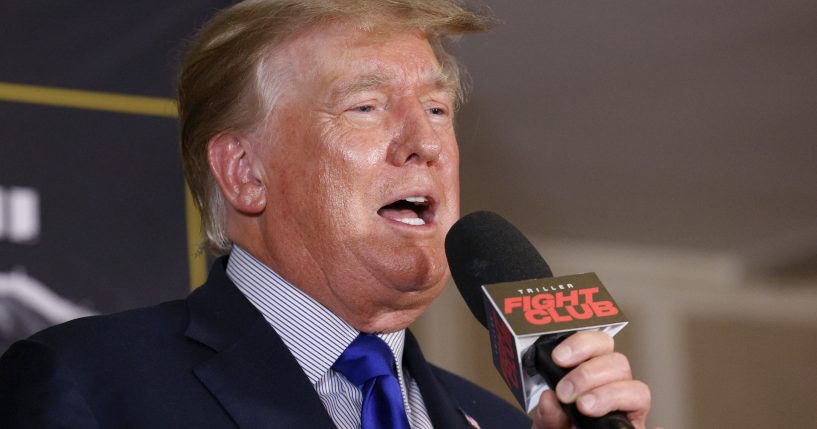 Former President Donald Trump's first book since leaving the White House will highlight key moments during his time in office.
The book titled, "Our Journey Together," will be published next month. According to the description, "This photo book captures the greatness of the last four years unlike anything else that has been published. Every photograph has been handpicked by President Donald J. Trump, every caption written by him, some in his own handwriting!"
It claims Trump "launched the most extraordinary political movement in history, dethroning political dynasties, defeating the Washington Establishment, and becoming the first true outsider elected as President of the United States."
Advertisement - story continues below
The book includes over 300 photographs, reliving "the unforgettable moments of President Trump's time in the White House: building the southern border wall; cutting America's taxes; confirming almost 300 federal judges and 3 Supreme Court justices; rebuilding our military; creating Space Force; dealing with Kim Jong-Un, President Xi, President Putin, and many other world leaders; and battling liberals on two impeachment witch hunts!"
It is now available for preorder. A standard copy of the book costs $74.99 while a signed copy costs $229.99.
Trump released a statement celebrating the release of the book, saying, "This fantastic keepsake chronicles the greatness of the last four years with powerful images unlike anything else that has been published."
He continued, "It would make a fantastic Christmas present. Our Journey would not have been possible without Patriots all across America, where this book has proudly been printed!"
Advertisement - story continues below
The former president claimed the "MAGA message is being heard — bigger and better than ever before. Remember, our journey isn't over—the best is yet to come!"
Trump is planning a post-presidency picture book:

Don Jr. tells Axios: "My father picked every single photo in this book, wrote all the captions, including some by hand." https://t.co/heuUTdxihC

— Axios (@axios) November 19, 2021
Will you be ordering the book?
The announcement comes less than a month after Trump hinted at running for the White House again in 2024.
Trump released a statement last month, blasting Democrats' "billionaires tax" proposal and hinting at his plans for 2024.
"What country will be the primary beneficiary from a 'Billionaires Tax,' or Wealth Tax?" Trump said.
Advertisement - story continues below
He added, "Where will wealthy people and companies move to, leaving the United States high and dry? Most don't need to be in the U.S. anyway. I know all of those very smartly run countries, and they are all thrilled by what the Radical Left maniacs are doing in Congress."
Concluding his statement, Trump explained, "I just wonder, will I be allowed to run for president again if I move to another country? No, I guess I'll just stick it out, but most others won't!"
Truth and Accuracy
We are committed to truth and accuracy in all of our journalism. Read our editorial standards.
Conversation