News
Tucker Carlson Calls on Biden to Reveal Ketanji Brown Jackson's LSAT Scores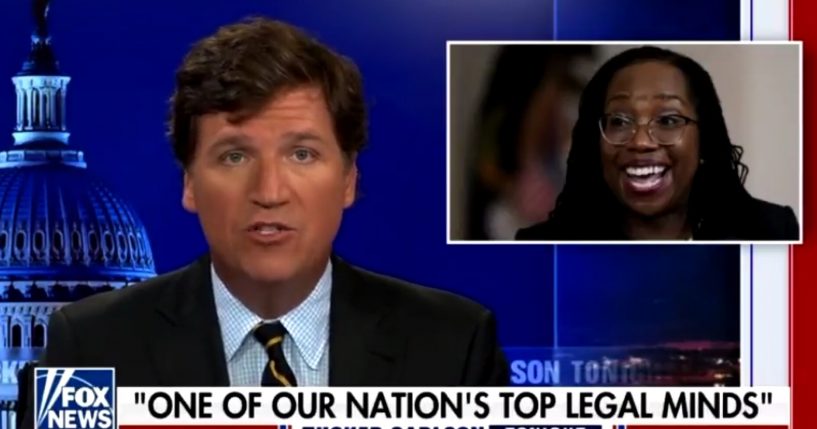 Fox News's Tucker Carlson says "it might be time" for President Joe Biden to reveal Judge Ketanji Brown Jackson's Law School Admission Test results.
Last week, Biden nominated Jackson to be the first Black woman to serve on the Supreme Court. During Carlson's show Wednesday night, he commented on Biden's State of the Union address.
"Biden went on to mention someone called Ketanji Brown Jackson," Carlson said, adding, "That's not a name most Americans know because Ketanji Brown Jackson has been an appellate judge for less than a year. But Joe Biden assured us that she is, quote, 'one of our top legal minds."
Advertisement - story continues below
Carlson went on to ask, "So, is Ketanji Brown Jackson – a name that even Joe Biden has trouble pronouncing – one of the top legal minds in the entire country?"
He added, "We certainly hope so. Biden's right. Appointing her is one of his gravest constitutional duties. So it might be time for Joe Biden to let us know what Ketanji Brown Jackson's LSAT score was. How did she do on the LSATs? Why wouldn't you tell us that?"
The Fox News host suggested it would "settle the question conclusively as to whether she's a once-in-a-generation legal talent, the next Learned Hand. It would seem like Americans in a democracy have a right to know that and much more before giving her a lifetime appointment, but we didn't hear that."
Watch Carlson's comments below:
Advertisement - story continues below
Tucker: It might be time for Joe Biden to let us know Ketanji Brown Jackson's LSAT score was. Why wouldn't he tell us that… pic.twitter.com/boPHU5PnMd

— Acyn (@Acyn) March 3, 2022
In 2020, Biden vowed to put a Black woman on the Supreme Court if he were elected president.
Should Biden reveal Jackson's LSAT scores?
As he was introducing Jackson at the White House, Biden said, "For too long, our government, our courts haven't looked like America."
He added, "I believe it's time that we have a court that reflects the full talents and greatness of our nation with a nominee of extraordinary qualifications, and that we inspire all young people to believe that they can one day serve their country at the highest level."
Biden nominated Jackson weeks after Justice Stephen Breyer announced plans to retire.
Truth and Accuracy
We are committed to truth and accuracy in all of our journalism. Read our editorial standards.
Comment Down Below
Conversation