News
Tucker Carlson Blasts Kavanaugh Over Vote to Uphold Biden's Vaccine Mandate for Health Care Workers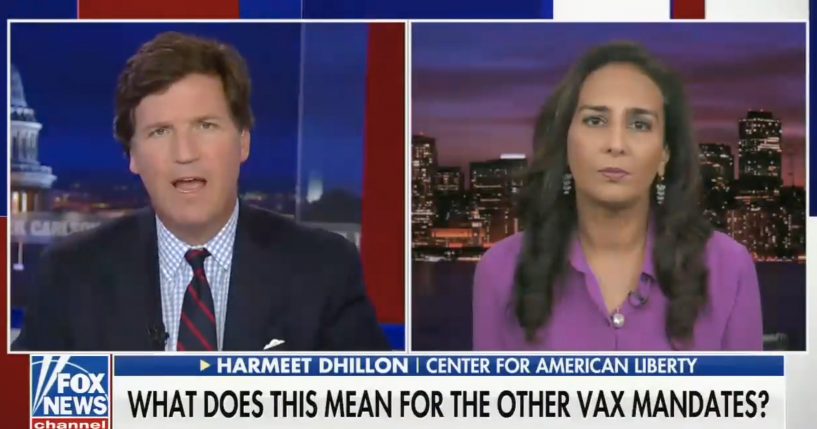 Fox News host Tucker Carlson slammed Supreme Court Justice Brett Kavanaugh, calling him a "cringing little liberal."
Kavanaugh voted to uphold President Joe Biden's federal vaccine requirement for healthcare workers. The Supreme Court voted on Thursday to block Biden's vaccine and testing mandate for large businesses.
Carlson blasted Biden, saying, "He's not God, and the Congress didn't pass the law. The court decided that vaccine mandate for healthcare workers, by contrast, can remain in place at least for now."
Advertisement - story continues below
He added, "But as it stands this ruling is a rejection of yet another dramatic overreach from a completely out of control administration that believes it knows more about health and science than doctors and nurses."
Center for American Liberty CEO and civil rights attorney Harmeet Dhillon joined Carlson to share her thoughts on the mandate for healthcare workers.
"So, 10 million healthcare workers do have to get vaccinated if they wish to keep their jobs in a covered facility is unfortunate, given the massive shortage that we have of healthcare workers right now in our hospitals," Dhillon said.
Carlson responded, "Yeah, with no, with no help from Brett Kavanaugh, I notice. Cringing little liberal."
Advertisement - story continues below
Tucker just called Kavanaugh a lib pic.twitter.com/8uUTM0Imv5

— nikki mccann ramírez (@NikkiMcR) January 14, 2022
Biden issued a statement responding to the ruling, as CNN reported.
"I am disappointed that the Supreme Court has chosen to block common-sense life-saving requirements for employees at large businesses that were grounded squarely in both science and the law," Biden said.
He stressed it is "now up to States and individual employers to determine whether to make their workplaces as safe as possible for employees, and whether their businesses will be safe for consumers during this pandemic by requiring employees to take the simple and effective step of getting vaccinated."
More than 208 million Americans are fully vaccinated, according to The Associated Press, citing the Centers for Disease Control and Prevention.
Truth and Accuracy
We are committed to truth and accuracy in all of our journalism. Read our editorial standards.
Comment Down Below
Conversation