News
'Get a Therapist, Honey': Tucker Carlson Reacts To AOC's Fears During Capitol Riot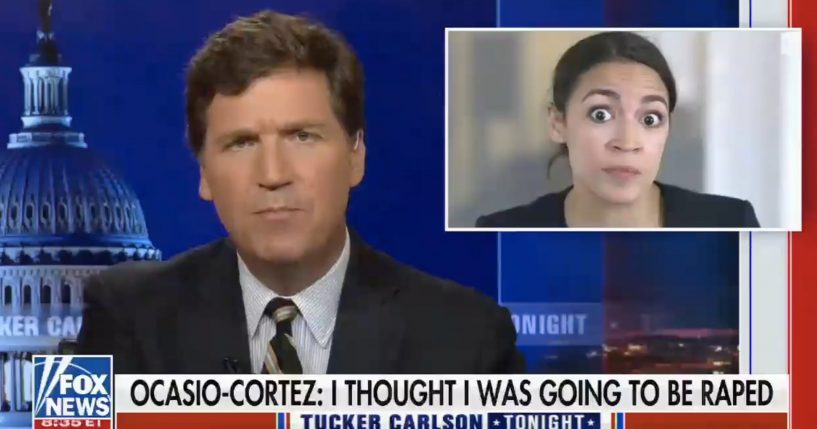 Fox News's Tucker Carlson is taking a swipe at Rep. Alexandria Ocasio-Cortez (D-N.Y.) after she claimed she was afraid of being raped during the January 6 attack on the U.S. Capitol, telling her to "get a therapist."
Referring to her as "Sandy Cortez" during an episode of his show Thursday, Carlson asked, "Does she ever stop talking about herself, by the way?"
He mentioned Ashli Babbitt, a supporter of former President Donald Trump and Air Force veteran, who was shot and killed by an officer during the riot.
Advertisement - story continues below
Carlson continued, "She explained she wasn't simply afraid of being murdered by Ashli Babbitt. She was also worried about being raped."
The Fox News host proceeded to play a video of Ocasio-Cortez's comments.
The Democratic lawmaker told CNN's Dana Bash, "I didn't think that I was just going to be killed. I thought other things were going to happen to me as well."
Bash responded, "It sounds like what you are telling me right now is you didn't only think you were going to die, you thought you were going to be raped."
Advertisement - story continues below
Ocasio-Cortez said, "Yeah, I thought I was."
Watch the video below:
This is Tucker Carlson today laughing at @AOC's fears of being raped on January 6. He laughs about it.

This is disgusting and I hope @FoxNews and their advertisers are hit with backlash from millions of people.pic.twitter.com/HMZnxIWjbc

— Don Winslow (@donwinslow) August 13, 2021
Carlson criticized Ocasio-Cortez for her comments, saying, "Get a therapist, honey. This is crazy. These people were mad because they thought the election wasn't fair. Now, you may disagree with that, but it wasn't about you, surprise, surprise! 'Sexualized the violence, I thought I was gonna be raped by Ashli Babbitt!'"
He argued, "Imagine some Republican lady saying that about a BLM riot as thousands of rioters descended on neighborhoods and burned businesses all over the country."
Advertisement - story continues below
During an Instagram Live in February, Ocasio-Cortez revealed she is a survivor of sexual assault. She stressed how important it was to hold people accountable following the riot.
"We cannot move on without accountability," she said. "We cannot heal without accountability. All these people telling us to move on are doing so at their own convenience."
Truth and Accuracy
We are committed to truth and accuracy in all of our journalism. Read our editorial standards.
Conversation