News
US Women's Soccer Player Reacts to Pay Equity Agreement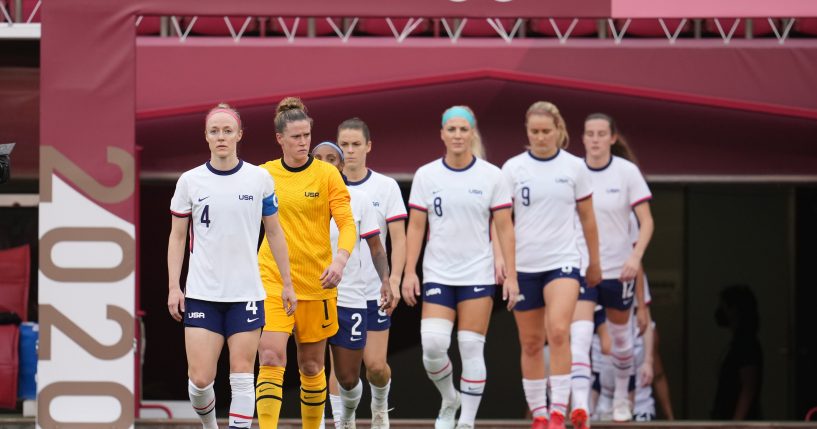 U.S. women's soccer player Becky Sauerbrunn reacted to a pay equity agreement, saying she feels "extreme pride."
The U.S. Soccer Federation (USSF) announced Wednesday it reached a pay equity agreement with the men's and women's soccer teams.
"I am feeling extreme pride. And to be able to say finally, equal pay for equal work feels very, very good," Sauerbrunn, the United States Women's National Team Players Association president, said during an interview with "Today."
Advertisement - story continues below
She later added, "It's tough to get so, so excited about something that we really should have had all along."
U.S. Soccer President Cindy Parlow Cone explained they need to give the men's players union "a lot of credit" for their role in the agreement.
"They came to the table and were very collaborative and worked together with the women's team first and then came together with U.S. Soccer," Cone said.
She continued, "I think this is going to have international ramifications in sport in general and hopefully into the business world, as well."
Advertisement - story continues below
Watch the interview below:
TODAY EXCLUSIVE: After fighting for equal pay for over a decade, the U.S. women's soccer team exclusively shares with TODAY and @stephgosk that they have reached a historic deal. More details here: https://t.co/orVxjgWi1I pic.twitter.com/Nfa4ItaZ05

— TODAY (@TODAYshow) May 18, 2022
According to the organization, under the agreements, "U.S. Soccer becomes the first Federation in the world to equalize FIFA World Cup prize money awarded to the U.S. Women's National Team (USWNT) and the U.S. Men's National Team (USMNT) for participation in their respective World Cups."
Additionally, "The new CBAs improve non-economic terms, including player health and safety, data privacy and the need to balance responsibilities to both club and country."
Walker Zimmerman, member of USNSTPA leadership group, said in a statement, "They said equal pay for men and women was not possible, but that did not stop us and we went ahead and achieved it."
Advertisement - story continues below
He added, "We hope this will awaken others to the need for this type of change, and will inspire FIFA and others around the world to move in the same direction."
The announcement received praise from several on social media.
About time💪🏻 https://t.co/c51ZQl0sGl

— Morgan Adsit (@MorganAdsit) May 18, 2022
Awesome! 👏🏽 https://t.co/pWAu2JrWs6

— Jasmine ⛈ (@JasmineLomaxWx) May 18, 2022
Advertisement - story continues below
Been a long time coming 👏🏽 👏🏽 https://t.co/rW9FeXAZhA

— Mikaela Thomas (@MikaelaThomasTV) May 18, 2022
Good news.
…and it's about time. https://t.co/97QWefOC20

— Adrian Fontes (@Adrian_Fontes) May 18, 2022
huge, welcome news 🙌🏽 https://t.co/nIfkoU5nK7

— shalise manza young (@shalisemyoung) May 18, 2022
NBC News noted the men's World Cup winner in 2018, France, brought in $38 million, while the U.S. women's team only raked in $4 million for their 2019 win.
Truth and Accuracy
We are committed to truth and accuracy in all of our journalism. Read our editorial standards.
Comment Down Below
Conversation