News
Video: AOC Walks Away and Refuses Questions on Oil, Gas Prices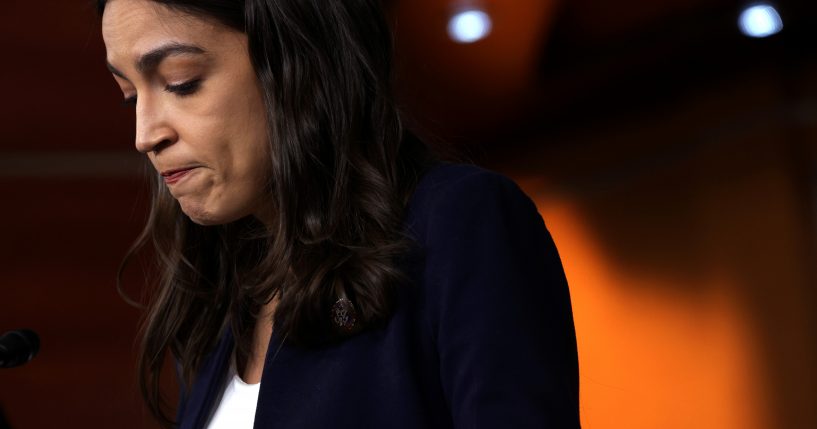 Rep. Alexandria Ocasio-Cortez (D-N.Y.) refused to answer questions about gas prices and oil production in the United States.
In a video first obtained by Fox News, Ocasio-Cortez was asked as she walked away, "Do you support Joe Biden's sanctions on Russia? Do you think the U.S. should increase oil production, congresswoman? Congresswoman, what do you have to say to people paying the price at the gas pump? Congresswoman, you have nothing to say? Nothing to say, congresswoman?"
Check out the video below:
Advertisement - story continues below
Fox News' Hillary Vaughn asked Ocasio-Cortez about Biden's Russian oil ban and whether the United States should purchase oil from Iran and Venezuela.
Advertisement - story continues below
"None of these options are good ones because of our dependency on oil… It's very alarming that many people are pushing to increase either imports or production in the short term are not talking about what we really need to be doing in terms of rapidly investing in solar and wind," Ocasio-Cortez said.
Rep. AOC today on Russian oil ban + buying oil from Iran/Venezuela: "none of these options are good ones because of our dependency on oil" – tells me its "alarming" people are talking about increasing domestic production to fix supply issues and not also rapid $$ for solar/wind. pic.twitter.com/Fn5lWRK6lV

— Hillary Vaughn (@hillary__vaughn) March 8, 2022
An economic adviser for Biden claimed increased oil drilling in the U.S. would not make an impact on gas prices, as IJR reported.
"Even if we drilled as much as we could, the price of oil is still set globally by the demand and supply conditions. And much of that supply is controlled by tyrants like Putin. And again, that's why we have resolve to speed our transition towards cleaner, more sustainable, and renewable sources of energy," Daleep Singh said during an appearance on MSNBC.
Others have argued the United States should be self-reliant on its own energy, including MSNBC anchor Katy Tur, as IJR reported.
Advertisement - story continues below
During her show, Tur pointed out the U.S. only uses "about 8 percent" of Russian oil, adding, "Again, the allies would need to get involved because so much of Europe is dependent on Russian oil."
She continued, "It also — something that Sen. Chris Murphy of Connecticut brought up today was, this just exposes how insane it is that we rely on energy from authoritarian leaders, and we are not self-reliant on our own energy. A lot of talk about why we don't go green."
Truth and Accuracy
We are committed to truth and accuracy in all of our journalism. Read our editorial standards.
Comment Down Below
Conversation