News
Video: Biden Again Refers to Kamala Harris as President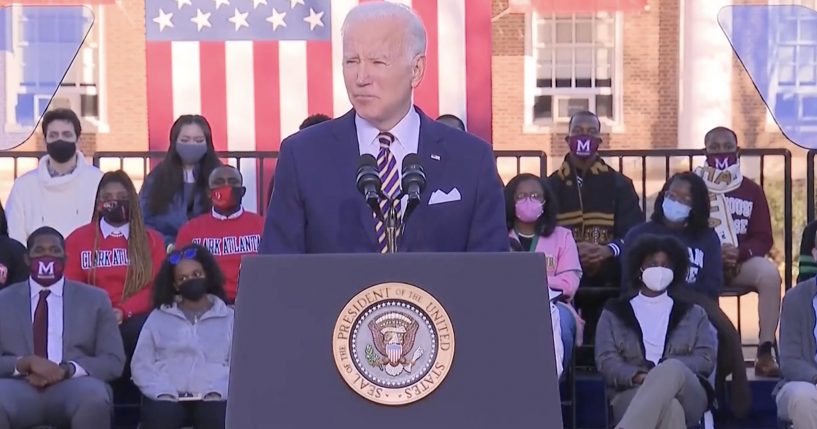 President Joe Biden again made the mistake of referring to Vice President Kamala Harris as president.
"Last week, President Harris and I stood in the United States Capitol to observe one of those before and after moments in American history," Biden said while delivering remarks about voting rights on the campus of Clark Atlanta University and Morehouse College.
WATCH: Joe Biden again refers to Kamala Harris as "President Harris" pic.twitter.com/anpOg4RZJW

— RNC Research (@RNCResearch) January 11, 2022
Advertisement - story continues below
Fox News noted the White House removed the error from the transcript.
Biden previously made the mistake while delivering remarks on COVID-19 vaccines from the White House in March of 2021.
"Now when President Harris and I took a virtual tour of a vaccination center in Arizona not long ago, one of the nurses on that, on that tour injecting people, giving vaccinations, said that each shot was like administering a dose of hope," Biden said.
The president also referred to Harris as the president-elect in December of 2020.
Advertisement - story continues below
"I took it to instill public confidence in the vaccine. President-elect Harris took hers today for the same reason," Biden said.
While delivering remarks Tuesday, both Biden and Harris called on Congress to pass voting rights legislation.
"The assault on our freedom to vote will be felt by every American in every community in every political party. And if we stand idly by, our entire nation will pay the price for generations to come," Harris said.
She continued, "As Dr. King said, the battle is in our hands. And today, the battle is in the hands of the leaders of the American people, those in particular that the American people sent to the United States Senate."
Biden claimed the goal of the former president and his allies "is to disenfranchise anyone who votes against them."
Advertisement - story continues below
He added, "Simple as that. The facts won't matter. Your vote won't matter. They'll just decide what they want, and then do it. That's the kind of power you see in totalitarian states. Not in democracies."
According to Politico, Senate Majority Leader Chuck Schumer (D-N.Y.) is expected to force another vote on election reforms legislation as early as this week.
Truth and Accuracy
We are committed to truth and accuracy in all of our journalism. Read our editorial standards.
Comment Down Below
Conversation