News
Video of Sports Broadcaster's Rant Against Socialism Goes Viral After His Death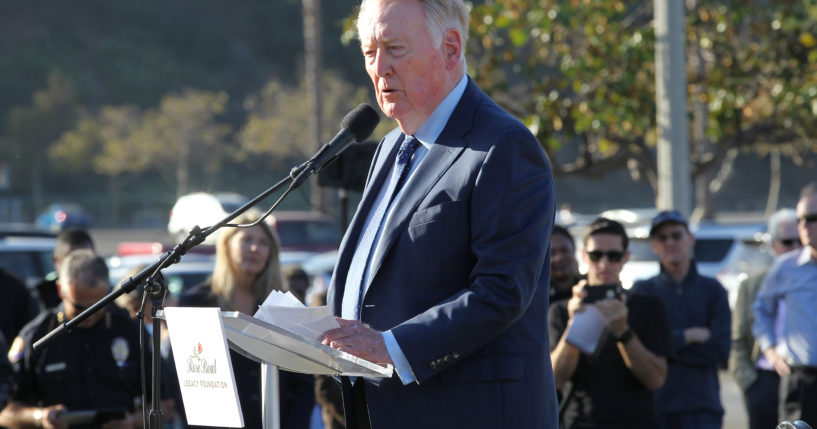 A video of a legendary sports broadcaster blasting socialism is making its rounds on social media.
On Wednesday, radio host Clay Travis posted the video on Twitter.
In the video, Los Angeles Dodgers broadcaster Vin Scully could be heard saying, "Socialism failing to work, as it always does, this time in Venezuela. You talk about giving everybody something free and all of a sudden, there's no food to eat."
Advertisement - story continues below
He continued, "And who do you think is the richest person in Venezuela? The daughter of Hugo Chavez. Hello! Anyway, 0-and-2."
Check out the video below:
Vin Scully on socialism. pic.twitter.com/oaNC7vhsZW

— Clay Travis (@ClayTravis) August 3, 2022
Scully received praise for his comments from users on Twitter.
Advertisement - story continues below
So. Awesome. https://t.co/kiEIqZum7u

— Chip Roy (@chiproytx) August 3, 2022
Nobody better than the late Vin. https://t.co/pmECJRQ4Jh

— Stainless (@Stainle97426622) August 3, 2022
Simplify brilliant rebuke of socialism from the great Vin Scully. https://t.co/yHRZHap9bS

— Claudia Tenney (@claudiatenney) August 3, 2022
Legend. https://t.co/yb4qzHwhKq

— Nick Barnes (@WickBarnes) August 3, 2022
RIP Vin Scully. One of his many great takes, here. https://t.co/VCqf6jeUvL

— John Walker (@WalkerJohnB) August 3, 2022
Advertisement - story continues below
Dodgers president and CEO Stan Kasten announced Scully had died at the age of 94 on Tuesday night.
"We have lost an icon," Kasten said in a statement.
He added, "Vin Scully was one of the greatest voices in all of sports. He was a giant of a man, not only as a broadcaster, but as a humanitarian. He loved people. He loved life. He loved baseball and the Dodgers. And he loved his family."
Kasten explained Scully's voice will "always be heard and etched in all of our minds forever. I know he was looking forward to joining the love of his life, Sandi. Our thoughts and prayers go out to his family during this very difficult time. Vin will be truly missed."
Advertisement - story continues below
Additionally, Major League Baseball commissioner Rob Manfred issued a statement calling Scully "a legend in our game."
Manfred said Scully was "an extraordinary man whose gift for broadcasting brought joy to generations of Dodger fans. In addition, his voice played a memorable role in some of the greatest moments in the history of our sport."
His statement continued, "I am proud that Vin was synonymous with Baseball because he embodied the very best of our National Pastime. As great as he was as a broadcaster, he was equally great as a person."
Truth and Accuracy
We are committed to truth and accuracy in all of our journalism. Read our editorial standards.
Comment Down Below
Conversation