News
'The View' Co-Hosts Side With Marjorie Taylor Greene Following Alleged Attack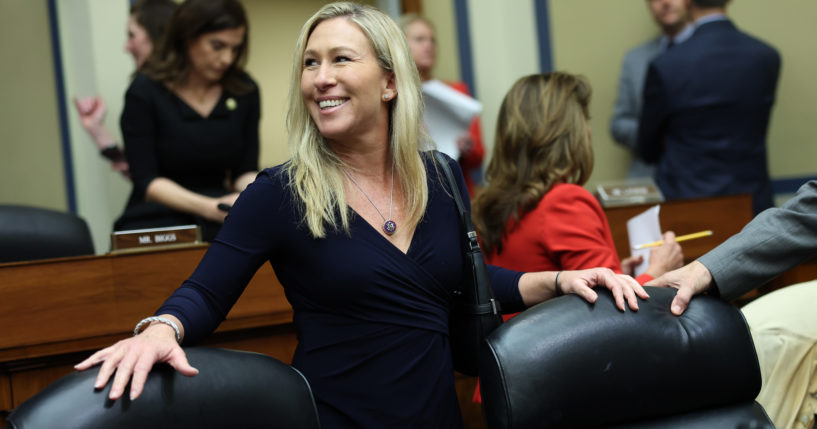 "The View" co-hosts Joy Behar and Sunny Hostin likely surprised viewers with their take on Rep. Marjorie Taylor Greene's (R-Ga.) latest claim.
During an episode of the show Tuesday, the co-hosts reacted to a claim Greene made about being attacked at a restaurant.
"I have to say, I'm on Marjorie's side for this one," Joy Behar said.
Advertisement - story continues below
She explained, "Because I don't believe that anybody should be going up to any of us, anybody in public, and harassing us and that goes for you, too, Marjorie, because you were harassing AOC and you were stalking David Hogg, the kid that survived the Parkland shooting."
Sunny Hostin chimed in, saying it had happened to herself and co-host Ana Navarro while they were out in public.
She told the co-hosts individuals were shouting "Trump 2024" and "f*ck you."
Hostin said she "didn't like that experience, and I don't think she [Greene] should experience it."
Advertisement - story continues below
She continued, "But she's this professional troller, you know, she was disrespectful to the President of the United States during the State of the Union, she heckles people all the time. I need more information on this. What does she mean by attack?"
Behar replied, saying, "Let's take her word for it, in this case."
Co-host Alyssa Farah Griffin added that she hopes Greene learns a lesson from the incident.
Watch part of the show below:
Advertisement - story continues below
Greene made the claim on Twitter Monday night, as IJR reported.
"I was attacked in a restaurant tonight by an insane women and screamed at by her adult son. They had no respect for the restaurant or the staff or the other people dining or people like me who simply have different political views," Greene said.
She said they were "self righteous, insane, and completely out of control. I was sitting at my table, working with my staff, and never even noticed these people until they turned into demons."
Concluding the tweet, Greene added, "People used to respect others even if they had different views. But not anymore. Our country is gone."
Advertisement - story continues below
Greene's spokesperson Nick Dyer told Forbes he "had to get in between him and the table."
Staff asked the mother and son to leave, according to Dyer.
He shared the team is not disclosing which restaurant it was to avoid subjecting to "harassment from the left," per Forbes.
Truth and Accuracy
We are committed to truth and accuracy in all of our journalism. Read our editorial standards.
Comment Down Below
Conversation