Watch: Romney Booed During Speech at Utah GOP Convention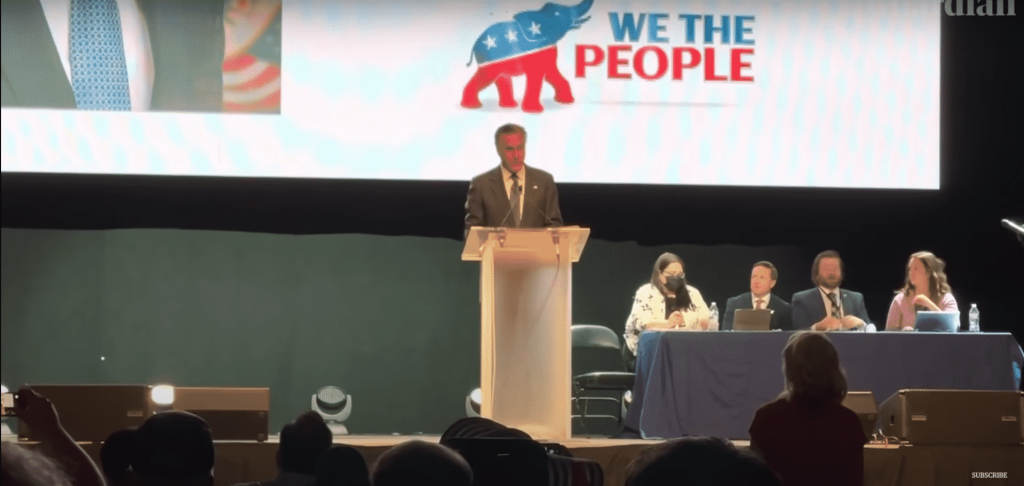 Sen. Mitt Romney (R-Utah) did not receive a warm welcome during his speech at Utah Republican Party convention.
On Saturday, Romney addressed the crowd of 2,100 delegates but was met with loud boos. The Utah senator said, "Now you know me as a person as someone who says what he thinks. And I don't hide the fact that I wasn't a fan of our last president's character issues."
The boos grew louder as Romney made his reference to former President Donald Trump, to which he responded, "Aren't you embarrassed?"
Watch the video below:
Romney, who scorched Trump in 2016, had a contentious relationship with the former president.
In 2020 and 2021 he voted to convict Trump on articles of impeachment, the only Republican senator to vote in favor of conviction both years. In both impeachment trials, Trump was ultimately acquitted by the Senate.
After he voted last year to convict Trump on the charge of abuse of power, Trump lashed out as he said, "Had failed presidential candidate [Mitt Romney] devoted the same energy and anger to defeating a faltering Barack Obama as he sanctimoniously does to me, he could have won the election."
He also shared a video calling Romney a "secret Democrat asset."
The Utah Republican Party also tweeted that it "strongly" disagreed with his conviction vote.
The Utah Republican Party is pleased to see President Trump completely acquitted by the United States Senate. We appreciate the service rendered to our state by Utah's two senators. As a party, we strongly disagree with the vote cast today by Senator Romney.

— UtahGOP (@UtahGOP) February 5, 2020
Romney was awarded the John F. Kennedy "Profile in Courage Award" for his 2020 impeachment vote and "[defending] the integrity of the [2020 presidential election results] and [opposing] efforts to overturn the decision of the Electoral College."