News
Yang Breaks With Contenders During Debate Saying He Wants Support From de Blasio, Cuomo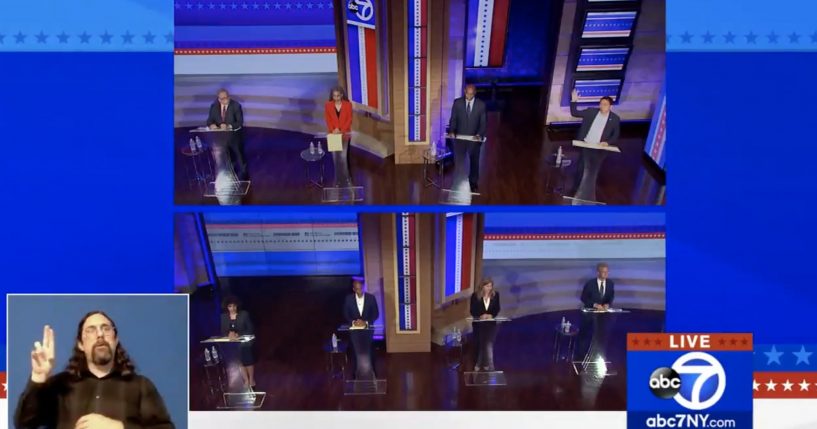 New York City mayoral candidate Andrew Yang (D) says he would welcome endorsements from New York City Mayor Bill de Blasio (D) and New York Gov. Andrew Cuomo (D) in the upcoming New York City's Democratic mayoral primary.
During Wednesday night's debate, the moderator asked eight mayoral candidates to raise their hands if they would like to have de Blasio's endorsement for mayor of New York City.
Yang was the only one to raise his hand. When asked how many would like to have Cuomo's endorsement, Yang was also the only one who raised his hand.
Advertisement - story continues below
Watch the video below:
NYC MAYOR DEBATE: When asked which of them would like to have either New York City Mayor Bill de Blasio or Gov. Andrew Cuomo's endorsement, of the 8 Democratic candidates for mayor, only Andrew Yang raised his hand. | https://t.co/LqR8zrUwC9 pic.twitter.com/JXv83YA4mv

— Eyewitness News (@ABC7NY) June 3, 2021
Last month, de Blasio seemingly took a swipe at Yang. The New York City mayor suggested, "The next mayor is going to have to navigate a very challenging environment, and they better damn well understand how New York City works."
Yang last week criticized de Blasio for his spending proposal, saying during an interview with WNYC radio, "I'm concerned Bill de Blasio's administration has been really undisciplined about its use of resources."
Advertisement - story continues below
He continued, "Right now they project that we're going to see a $5 billion deficit in 2023 and I think common sense dictates if you project a deficit at that level you should probably be planning for it right now and we're not seeing that sort of planning."
Yang claimed, "We're not seeing even basic cost efficiencies being asked of agencies."
In April, Yang told CBS News he believes Cuomo should "step aside" and New York would have a "better chance" of serving its citizens without him. 
Still, Yang said he would accept Cuomo's endorsement, if it is offered, and is willing to "work with anyone who wants to help New York City."
Cuomo has been accused of sexually harassing or behaving inappropriately toward women he worked with or who he met elsewhere, as The Associated Press reported in March.
Advertisement - story continues below
The New York governor said he "never touched anyone inappropriately" and "never made any inappropriate advances."
On whether he would accept de Blasio's endorsement, Yang previously told CBS News, "Bill has experience doing a job that I believe I'll have, I hope I'll have. You want to be able to take guidance from people, even if you might disagree with them on any number of things."
Truth and Accuracy
We are committed to truth and accuracy in all of our journalism. Read our editorial standards.
Comment Down Below
Conversation