News
Biden Blasts GOP Questioning of Jackson During Hearings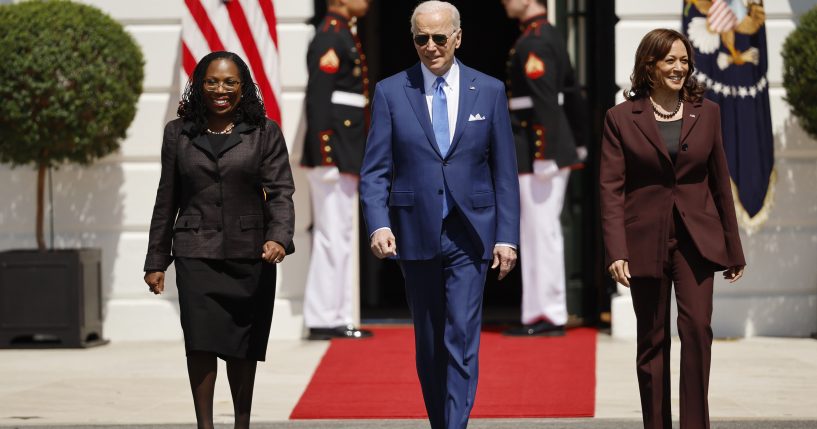 President Joe Biden took aim at Republicans over their questioning of Supreme Court Nominee Ketanji Brown Jackson during her confirmation hearings, accusing them of "verbal abuse."
During an event at the White House Friday, Biden said, "I have to tell you, what Judge Jackson was put through was well beyond that. It was verbal abuse — the anger, the constant interruptions, the most vile and baseless assertions and accusations."
He continued, "In the face of it all, Judge Jackson showed the incredible character and integrity she possesses. Poise — poise and composure. Patience and restraint. And yes, perseverance and even joy."
Advertisement - story continues below
Watch part of the event below:
Pres. Biden says Judge Ketanji Brown Jackson was put through "verbal abuse" at confirmation hearings. pic.twitter.com/9awFKDVI2B

— Breaking911 (@Breaking911) April 8, 2022
Still, Biden expressed his appreciation to the Republicans who did support Jackson.
"Not withstanding the harassment and attacks in the hearings, I always believed that a bipartisan vote was possible," Biden said.
Advertisement - story continues below
He continued, "And I hope I don't get them in trouble, and I mean it sincerely, but I want to thank three Republicans who voted for Judge Jackson."
Sens. Susan Collins (R-Maine), Lisa Murkowski (R-Alaska) and Mitt Romney (R-Utah) were the three Republicans who supported Jackson.
"Sen. Collins is a woman of integrity. Sen. Murkowski the same way in Alaska, up for reelection. And Mitt Romney, whose dad stood up like he did. His dad stood up and made these decisions on civil rights," Biden said.
The president went on, "They deserve enormous credit for setting aside partisanship and making the carefully considered judgment based on the judge's character, qualifications and independence."
Jackson faced a series of questions from Republican lawmakers on issues such as "critical race theory" and her record on child pornography cases, as CNN reported.
Advertisement - story continues below
On Thursday, the Senate voted 53-47 to confirm Jackson to the Supreme Court.
"It has taken 232 years and 115 prior appointments for a Black woman to be selected to serve on the Supreme Court of the United States, but we've made it! We've made it – all of us," Jackson said.
She added, "I have dedicated my career to public service because I love this country and our Constitution and the rights that make us free."
Jackson then quoted poet Maya Angelou, saying, "I am the dream and the hope of the slave."
Truth and Accuracy
We are committed to truth and accuracy in all of our journalism. Read our editorial standards.
Comment Down Below
Conversation