News
Charges Recommended Over the Viral Confrontation Between Sinema and Protesters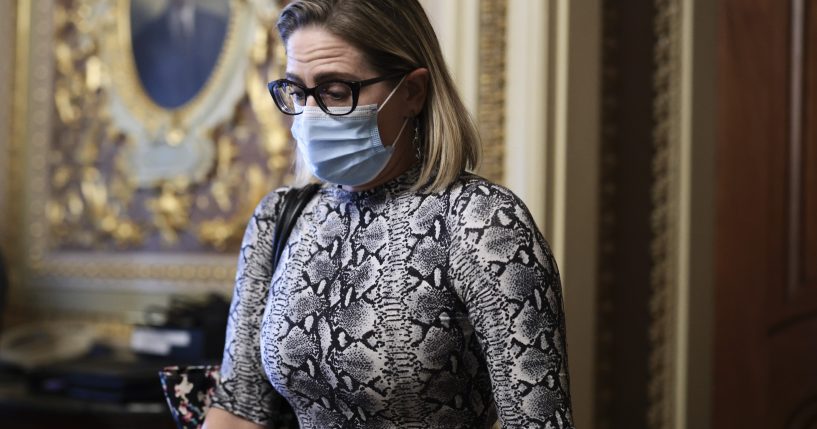 The viral confrontation between Sen. Kyrsten Sinema (D-Ariz.) and protesters at Arizona State University could lead to charges.
According to the Arizona Mirror, the Arizona State University Police Department is calling on county prosecutors to charge four individuals with misdemeanors after interrupting a class and confronting Sinema in the bathroom.
Adam Wolfe, spokesman for ASU Police Department told the outlet Sinema's office and the Maricopa County Attorney's Office investigated the matter.
Advertisement - story continues below
Wolfe did not disclose the names of the individuals, saying, "I don't want to overstep on the Maricopa County Attorney's Office and release names, because it's still being processed and if they choose to prosecute I don't want to interfere with that."
The spokesman explained the four individuals allegedly committed misdemeanors, including committing disorderly conduct and disruption of an educational institution, as the Arizona Mirror reports.
The protesters followed Sinema into the bathroom, confronting her over President Joe Biden's agenda, as IJR reported.
One protester told her, "We knocked on doors for you to get you elected. Just how we got you elected, we can get you out of office if you don't support what you promised us."
Advertisement - story continues below
Another said, "We need the Build Back Better plan right now."
In case you missed it:
Should the protesters face charges?
Protesters followed Sen. Sinema into the bathroom at Arizona State University to confront her on Build Back Better and immigration pic.twitter.com/NDSmeu0h2M

— Jennifer Epstein (@jeneps) October 3, 2021
Sinema later released a statement, arguing the confrontation "was not legitimate protest."
She continued, "It is unacceptable for activist organizations to instruct their members to jeopardize themselves by engaging in unlawful activities such as gaining entry to close university buildings, disrupting learning environments, and filming students in a restroom."
Advertisement - story continues below
The senator claimed her students "were unfairly and unlawfully victimized," adding, "This is wholly inappropriate."
Another group of protesters later confronted Sinema at Reagan National Airport in Washington, D.C., over why she would not support Biden's agenda.
Truth and Accuracy
We are committed to truth and accuracy in all of our journalism. Read our editorial standards.
Conversation