News
Chris Christie Says Unvaccinated People 'Don't Want To Be Indoctrinated'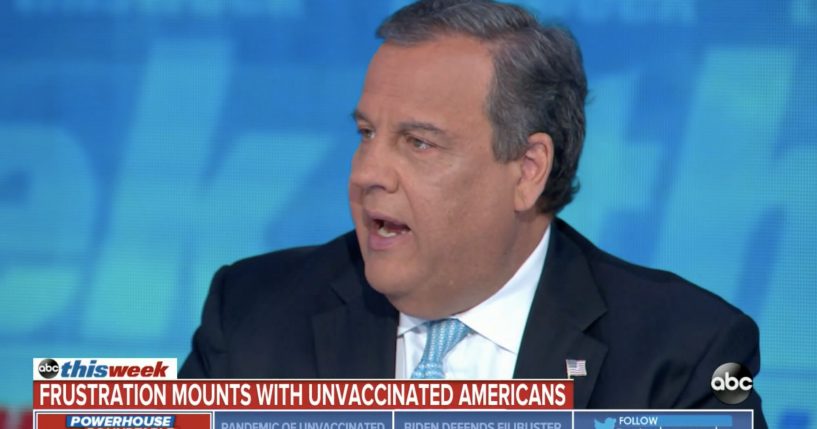 Former New Jersey Gov. Chris Christie (R) says officials need to "walk" people who are unvaccinated "through the logic of this" amid the coronavirus pandemic.
During an appearance on ABC's "This Week," Christie acknowledged New Jersey has the highest death rate per capita of any state in the country "with all the lockdowns … we're the biggest ones to lockdown. It didn't work."
He added, "The vaccines do work. Every focus group I've been in, Republicans who are not vaccinated, you have to walk them through the logic of this. What they don't want is to be indoctrinated. They're willing to be vaccinated."
Advertisement - story continues below
Christie explained officials have failed to explain it, "They're just saying, 'Get vaccinated.'"
Watch the video below:
He continued, "These folks do not respond to be ordered to do those things … It's a libertarian-type of response to this. I sat with this guy, and I walked him through the facts, and then he said, 'OK, I'm going to go get vaccinated.' That's what we need to do."
Advertisement - story continues below
The U.S. Centers for Disease Control and Prevention (CDC) director, Rochelle Walensky, previously warned COVID-19 cases are rising in parts of the country where vaccination rates are low, as IJR reported.
"This is becoming a pandemic of the unvaccinated. We are seeing outbreaks of cases in parts of the country that have low vaccination coverage," Walensky said.
She added, "Communities that are fully vaccinated are generally faring well."
Some Republicans are now urging people to get vaccinated. Senate Minority Leader Mitch McConnell (R-Ky.) said, "It is not at all unclear that the way to avoiding getting back in the hospital is to get vaccinated."
He continued, "I want to encourage everybody to do that and to ignore all these other voices that are giving demonstrably bad advice."
Advertisement - story continues below
Alabama Gov. Kay Ivey (R) told reporters, "It's time to start blaming the unvaccinated folks, not the regular folks. It's the unvaccinated folks that are letting us down."
Former President Donald Trump suggested "people are refusing to take the vaccine because they don't trust" the Biden administration.
He went on in his statement, "They don't trust the election results, and they certainly don't trust the Fake News, which is refusing to tell them the Truth."
Truth and Accuracy
We are committed to truth and accuracy in all of our journalism. Read our editorial standards.
Conversation