Chris Cuomo Spars With Schlapp Over Widespread Voter Fraud Claims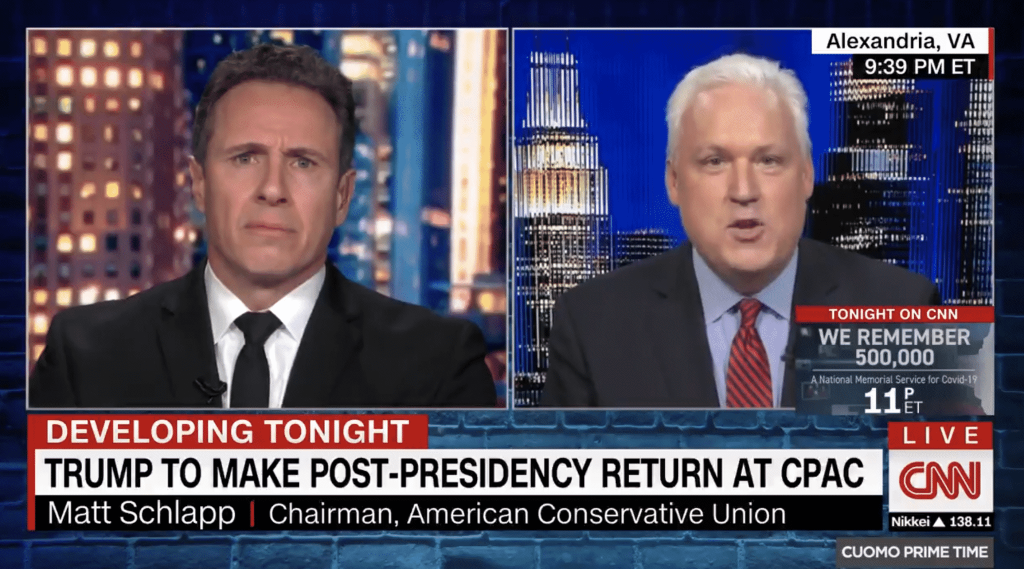 CNN's Chris Cuomo refused to back down during a heated conversation with the American Conservative Union chair, Matt Schlapp, over his claims of widespread voter fraud in the 2020 presidential election.
During Cuomo's show on Monday night, the anchor suggested CPAC is "tacitly endorsing" Trump's "election farce" by allowing him to speak.
Schlapp replied, "I don't know what that means."
Cuomo explained, "Well, he lied about the election being a fraud, and you having him there and giving him a platform seems to be your acknowledgment of the same."
Schlapp encouraged Cuomo to look at their agenda and said they are going to be spending a significant amount of time talking about "what happened in these states."
He accused Cuomo of suggesting states were following their election laws and told him it is "simply not true."
Watch their conversation below:
American Conservative Union Chairman Matt Schlapp defends his decision to invite Donald Trump to speak at CPAC this weekend, despite the former President's ongoing lie that he won the 2020 election. https://t.co/vboWYo5DjU pic.twitter.com/wOeCqdyMo5

— Cuomo Prime Time (@CuomoPrimeTime) February 23, 2021
Cuomo responded, "What I said was it is not true that any state decided that it was doing something wrong and states get to decide and it was adjudicated. You just don't like that you lost in the state."
He continued, "You don't like that the Supreme Court refused to see any merit to your claims. You don't like that when you say people voted in places where they didn't live and the numbers were lower than you suggested… You don't like those things but those things are true."
Schlapp expressed concerns over how the election was conducted in Georgia.
"I'm trying to explain to you that, for instance, what they did in the state of Georgia when they had an illegal consent decree to not verify the signatures of mail-in ballots… That means you have no security on the ballot that was mailed out without unsolicited vast mail-in ballots. They were returned with no security," he said.
Cuomo stressed there is "no proof" of widespread election fraud. At the same time, he did acknowledge "nobody is saying the process is perfect."
He asked Schlapp, "You guys really want the conservative movement to be made on the back of a lie about the election?"
Schlapp recognized Biden as the president but stood firm in his belief there was evidence of voter fraud and voter irregularity.
Cuomo pointed out dozens of Trump's lawsuits challenging the results failed.
"You're right. They did fail… You know this. You're a good lawyer. Just because you fail in court doesn't mean you don't have a good case. It means you lost in court, and the fact remains that you can say it wasn't enough voter fraud," Schlapp said.
Cuomo noted Republican election officials in Georgia said there was no evidence of fraud.
According to an Associated Press fact-check, Trump's claim Georgia election officials were unable to verify signatures on absentee ballots because of a decent decree is false.
"There is nothing in the consent decree that prevents Georgia election clerks from scrutinizing signatures," the fact-check reads.
Georgia Secretary of State Brad Raffensperger said in January Trump's election fraud claims are "just plain wrong."