News
CNN's Jim Acosta Says He 'Never Got an Apology' From Trump for His Behavior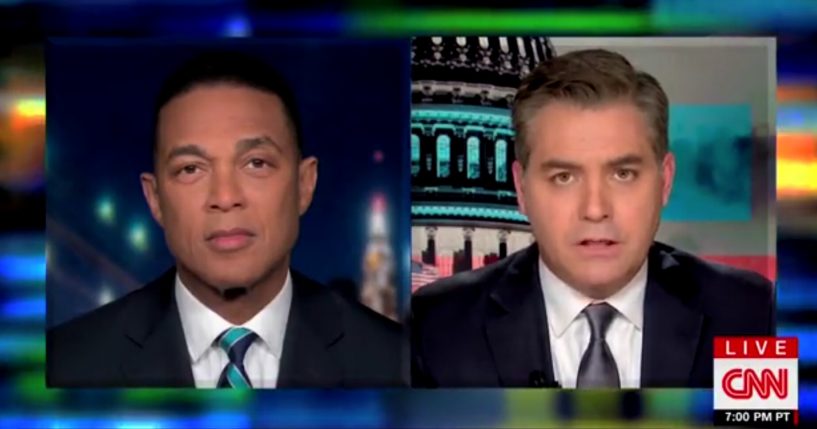 CNN's Jim Acosta reflected on his time as the White House correspondent during former President Donald Trump's time in office, saying he still has "marks on my back" to prove it.
His colleague, Don Lemon, explained, "As someone who witnessed the unraveling of our democracy, had a front row seat to it, you, is it better? Worse? Can we turn this around in your estimation? You were the White House correspondent for the entire Trump reign."
Acosta replied, "Yeah. And I've got the marks on my back to prove it, Don. I think we are in worse shape than we were to some extent during the early days, I guess, during most of the Trump administration."
Advertisement - story continues below
He suggested the nation is "facing a crisis," adding, "If we have a situation come November where you have elections all over our country thrown into chaos because everybody wants to act like Donald Trump and not accept the fact that they lost an election, I think, yes, we could have a serious breakdown in our democracy."
Acosta continued, "To some extent, things are better. I mean, today we had the President of the United States refer to a reporter as an S.O.B. You know, Don, you and I got called a lot worse back in the day. We never got an apology. I don't remember that from the commander-in-chief. So maybe things are a little bit better to some extent."
Watch the video below:
CNN's Jim Acosta reports democracy is on the mend because Biden gave an "apology" to Fox's Peter Doocy after calling him a "stupid son of a bitch," a break from how Trump treated him and Don Lemon. pic.twitter.com/0H72dEkeft

— Daniel Chaitin (@danielchaitin7) January 25, 2022
Advertisement - story continues below
President Joe Biden called Fox News's Peter Doocy a "stupid son of a b****" after asking him a question about inflation.
CNN host Jake Tapper also commented on the moment, as IJR reported.
"I don't think any president should be calling any journalist a dumb son of a b****," Tapper said during an interview with late-night talk show host Jimmy Kimmel.
Truth and Accuracy
We are committed to truth and accuracy in all of our journalism. Read our editorial standards.
Comment Down Below
Conversation