News
Cruz Challenges 'Squad' Member to 'Come Down to the Biden Cages Now'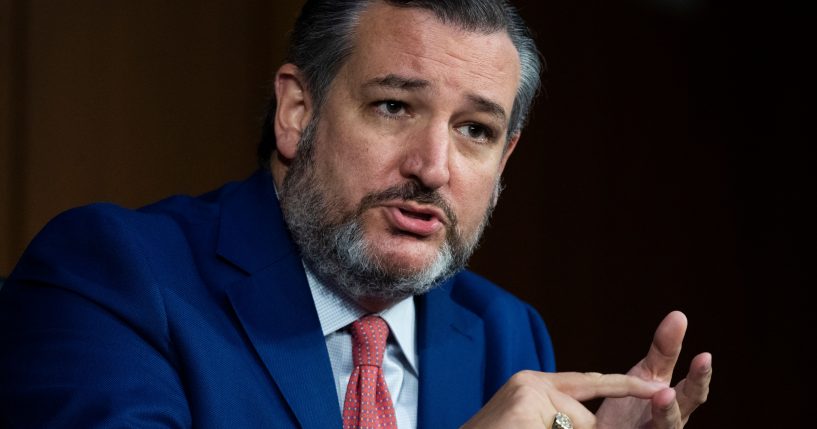 Sen. Ted Cruz (R-Texas) is calling on Rep. Alexandria-Ocasio-Cortez (D-N.Y.) to visit "the Biden cages now."
During a phone interview with Fox News, Cruz blasted President Joe Biden's handling of the situation at the border and took a swipe at Ocasio-Cortez as well as Vice President Kamala Harris.
"I challenge every one of them: I challenge Biden, I challenge Harris, I challenge AOC, who famously had a picture of her pretending to cry in front of a cage with children," Cruz said.
Advertisement - story continues below
He added, "Come down to the Biden cages now, which are bigger and more full."
The senator went on, "Let's see AOC cry in front of the Biden cages. Let's see Joe Biden or Kamala Harris or [White House press secretary] Jen Psaki say 'there is no border crisis' as we stand in front of the Biden cages."
Accusing them of "lying" and "counting on the media to cover up their lies," Cruz continued, "It's incredibly cynical and it's wrong."
Cruz mentioned comments made by Biden about the border agents who charged at Haitian migrants on horseback, saying they will "pay" for their actions.
Advertisement - story continues below
He claimed Biden repeated "the outright lie that they were carrying whips." Cruz said it was a "low point, even for this White House."
Acknowledging "quite a few heroes in our Border Patrol," Cruz argued, "Even before Biden's slander, they were demoralized and dispirited because under the Biden-Harris administration, they risk their lives to apprehend drug traffickers and human traffickers only to see their political superiors release them through the revolving door of Biden's open borders."
Additionally, Cruz slammed "the open-border radicals in the Democratic Party" for believing "that the Border Patrol are what [House Speaker] Nancy Pelosi calls them: stormtroopers, analogizing them to Nazi soldiers."
The Department of Homeland Security responded to the footage by announcing the agency is launching an investigation into the matter, as IJR reported.
Homeland Security Secretary Alejandro Mayorkas said during a Friday press briefing, "The images horrified us in terms of what they suggest and what they conjure up. In terms of not only our nation's history, but unfortunately the fact that that page of history has not been turned entirely."
Advertisement - story continues below
He added, "And that means that there is much work to do, and we are very focused on doing it. But I will not prejudge the facts. I do not in any way want to impair the integrity of the investigative process. We have investigators who are looking at it independently, they will draw their conclusions according to their standard operating procedures, and then the results of that investigation will be determined by the facts that are deduced."
On Sunday, Mayorkas revealed approximately 12,000 Haitian migrants have been released into the United States.
Truth and Accuracy
We are committed to truth and accuracy in all of our journalism. Read our editorial standards.
Conversation