Cuomo on Americans Traveling Amid Pandemic: 'To Act Like It's a Normal Thanksgiving Is to Deny Reality'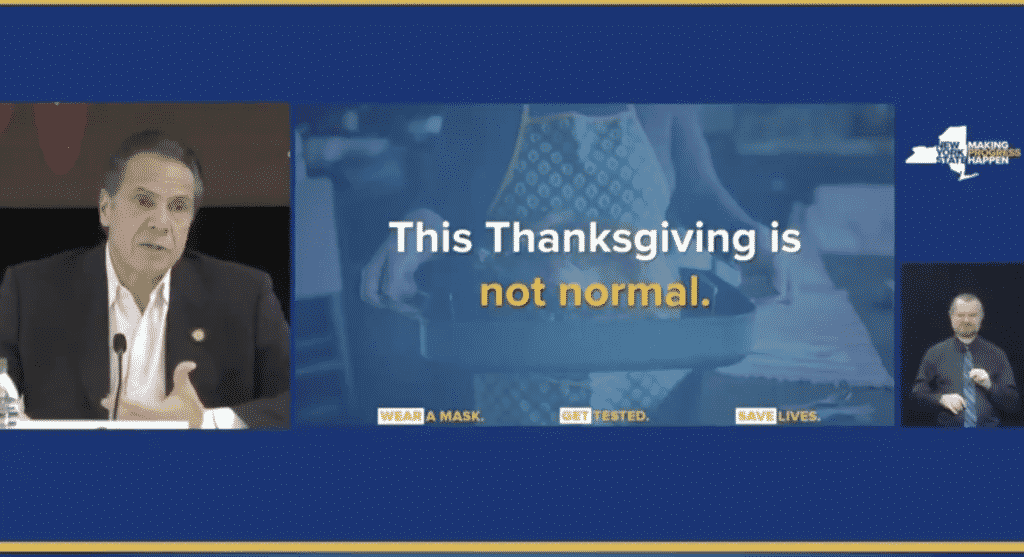 New York Gov. Andrew Cuomo (D) is telling Americans to stay home for Thanksgiving to slow the spread of COVID-19.
During a press briefing Wednesday, Cuomo reminded Americans this Thanksgiving is not like any other holiday.
"This is not a normal Thanksgiving, and to act like it's a normal Thanksgiving is to deny reality of every health expert in the nation, Democrat or Republican. 'Well, I know better.' Well then, you know better than every public health expert on both sides of the aisle in the United States of America," Cuomo said.
He implored Americans to spend Thanksgiving with only those in their household.
Cuomo explained, "This is not a political issue."
Check out the video below:
NY Gov. Cuomo: "Forget the politics — it's over. The election's over." pic.twitter.com/IWFX1YOeS7

— The Hill (@thehill) November 25, 2020
He stressed, "Forget the politics. It's over. The election's over."
Cuomo noted the Centers for Disease Control and Prevention (CDC) under President Donald Trump suggests staying home to celebrate Thanksgiving and President-elect Joe Biden's COVID-19 advisors are saying the same thing.
"So even if you're in this political mindset, 'I can't trust the other side. I can't trust Democrats. I can't trust Republicans.' They both agree on this issue," Cuomo said.
He announced earlier this month private gatherings would be limited to 10 people.
After several upstate sheriffs said they would not enforce the rule, Cuomo criticized them during a press conference Monday, as IJR previously reported.
"I believe that law enforcement officer violates his or her constitutional duty. I don't consider them a law enforcement officer. Because you don't have the right to pick laws that you think you will enforce, and you don't enforce laws that you don't agree with. Right. That's not a law enforcement officer. That's a dictator," Cuomo said.
Millions of Americans have decided to travel ahead of the holiday weekend despite public health warnings, as IJR previously reported.