Commentary
Dems, Republicans Tied in FiveThirtyEight's Congressional Generic Ballot Average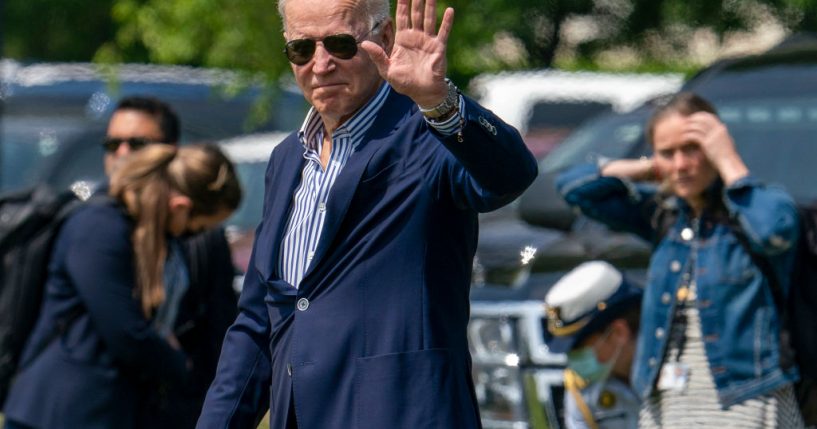 For months it seemed as though Republicans were on a glide path for a massive electoral sweep in the November midterm elections.
However, wise political commentators were cautioning that the environment could change in ways that would benefit the Democrats — or that Republicans could implode and destroy their chances.
Well, according to the data site FiveThirtyEight Republicans and Democrats are tied on the question of which party voters want to control Congress.
Advertisement - story continues below
Currently, 44.2% of respondents say they would vote for a Republican candidate, while 44.2% would for a Democratic candidate.
Republicans have been leading Democrats since Nov. 2021. However, in July polls showed Democrats gaining momentum.
Many have speculated that the Supreme Court's decision to overturn Roe v. Wade could provide a boost of energy for Democrats. Indeed, the decision by Kansas voters to reject an amendment to the state's constitution that would have let lawmakers ban abortion has given Democrats optimism that they can use the issue to energize voters.
Still, a recent Washington Post-Schar School poll conducted July 22-24 found that supporters of abortion access said they were not as sure they would vote as pro-life advocates.
Advertisement - story continues below
Republicans are probably not out of the game when it comes to flipping at least one chamber of Congress.
In 2014, 2002, and 1998, Democrats held a one-point advantage over Republicans on the generic ballot question. However, in those years, Republicans still won a majority in at least one chamber of Congress.
Do you think Republicans blew their midterm chances?
Data points to a November blowout, CNN's Harry Enten say, telling Jake Tapper that the GOP is currently in "the best position for Republicans at this point in any midterm cycle in over 80 years." pic.twitter.com/V3vevMlIXJ

— Virginia Kruta (@VAKruta) June 7, 2022
So without a massive swing toward the Democrats, Republicans' chances of flipping control of the House are probably still fairly safe.
However, the chance of wresting Democrats' nominal control of the Senate is not looking so good.
Advertisement - story continues below
According to FiveThirtyEight, the Democratic candidate is leading the Republican candidate for Senate in Pennsylvania and Ohio — two states that Republicans would likely need to hold onto if they want to flip the chamber.
Democrats are also leading in Arizona, Georgia — which both up until recently had Republican senators — and Nevada.
Even with a set of issues bubbling up toward the forefront of the national debate that Democrats believe give them an advantage, such as abortion and gun control, Republicans might have had a decent shot at retaking the Senate.
However, they've nominated weaker candidates for Senate in key states who are easier to be branded as fringe and extreme candidates. For example, Republicans in Arizona voted for Blake Masters — who has raised doubts about the 2020 election results and has written that he opposed America's involvement in both World Wars — for Senate.
Advertisement - story continues below
Also, in Arizona, it appears that Kari Lake — who repeated former President Donald Trump's unfounded claims about the 2020 election — is set to win the Republican gubernatorial nomination.
Meanwhile, in Georgia, Republican Senate nominee Herschel Walker's campaign was rocked by the revelation that he had three other children he had previously not talked about.
While FiveThirtyEight's average comes as Democrats seem to be on the upswing after months of atrocious polling for President Joe Biden and their party, there's still a lot of time left for things to go wrong for them before the midterms. And Biden's approval rating is still deeply underwater.
Either way, Republicans certainly can't be feeling as confident about November as they were just two months ago.
Truth and Accuracy
We are committed to truth and accuracy in all of our journalism. Read our editorial standards.
Comment Down Below
Conversation