Sen. Duckworth: It Is 'Breathtaking' to Be Among Those Considered for Biden's Running Mate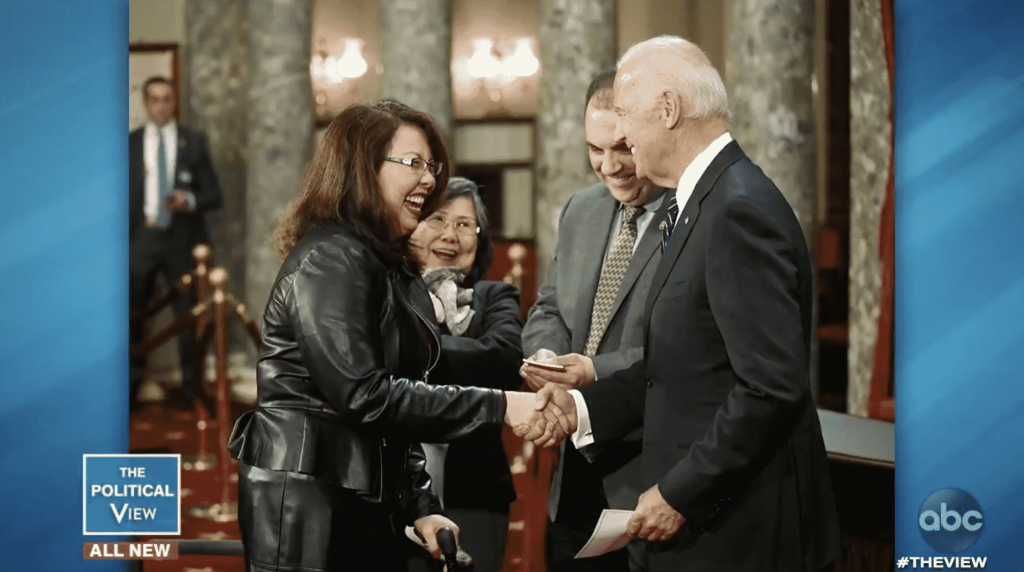 Sen. Tammy Duckworth (D-Ill.) is committed to helping presumptive Democratic presidential nominee Joe Biden win the election.
Co-host of "The View" Joy Behar asked Duckworth if she is interested in being the vice president and if she is being vetted at all for the position.
She explained her focus is getting him elected first and foremost.
"My focus is on getting Joe Biden elected," Duckworth said.
She added, "As you, I am frustrated with Donald Trump and his failure of a regime of an administration in the White House. So I would do whatever I needed to do to help Joe Biden get elected so that we can finally turn the corner in this country and get back on a path where we need to be."
Check out her comments below:
While @SenDuckworth calls it "breathtaking" to be among the names rumored as a possible Joe Biden running mate, she tells us she'll "leave the Biden camp to their process."

"In the meantime, I'm going to work as hard as I can to get Joe Biden elected." https://t.co/f8u2wbJuik pic.twitter.com/OBv67Qd2xV

— The View (@TheView) May 12, 2020
A few of Duckworth's Democratic colleagues have also expressed they would be willing to be Biden's running mate.
Sen. Elizabeth Warren (D-Mass.), Sen. Kamala Harris (D-Calif.), and former Georgia gubernatorial candidate Stacey Abrams have all said they would be happy to be chosen as Biden's running mate.
Biden previously said he would pick former First Lady Michelle Obama as his running mate if she would be open to the idea, as IJR previously reported.
Duckworth is ultimately leaving the decision up to Biden.
"I'm sure that they have their own process as to how they're going to select the vice president and I will leave them to it," Duckworth said.
She continued, "Just having my name mentioned in the same breath as the chairwoman of the Tammy caucus in the Senate Tammy Baldwin, and the likes of Amy Klobuchar is really breathtaking for me. I'll leave the Biden camp to their process, and in the meantime, I'm going to work as hard as I can to get Joe Biden elected."