Duckworth Blasts Tucker Carlson for His Comments About Women Serving in the Military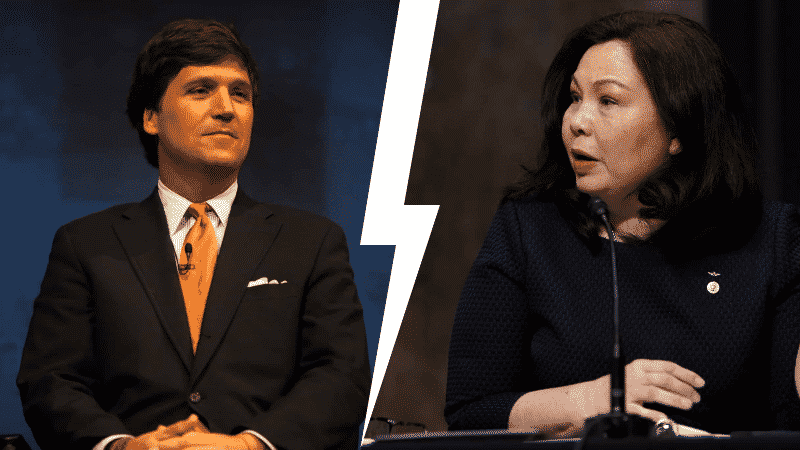 Sen. Tammy Duckworth (D-Ill.) is firing back at Fox News host Tucker Carlson for his remarks regarding the military's efforts to recruit more women.
"F*ck Tucker Carlson. While he was practicing his two-step, America's female warriors were hunting down Al Qaeda and proving the strength of America's women," Duckworth wrote on Twitter Thursday, including a video of Carlson featured on ABC's "Dancing with the Stars."
She added, "Happy belated International Women's Day to everyone but Tucker, who even I can dance better than."
Duckworth joked, "And we all know it was his female partner who did all the hard work."
…and we all know it was his female partner who did all the hard work. pic.twitter.com/yoGBy2iaQF

— Tammy Duckworth (@TammyforIL) March 11, 2021
Earlier in the week, Carlson raised concerns about pregnant women serving in the military.
"So we've got new hairstyles and maternity flight suits. Pregnant women are going to fight our wars. It's a mockery of the U.S. military," he said.
Carlson added, "While China's military becomes more masculine as it has assembled the world's largest navy, our military needs to become as Joe Biden says more feminine, whatever feminine means anymore."
Watch his comments below:
Tucker Carlson doesn't think women can serve in the military. Pretty bold words from a frozen food heir who couldn't be bothered to serve himself.

pic.twitter.com/424Wr7rfTz

— VoteVets (@votevets) March 11, 2021
He went on to argue, "It's out of control and the Pentagon's going along with this. This is a mockery of the U.S. Military and its core mission which is winning wars."
Carlson's comments garnered other strong reactions.
I signed up to serve my country at 18. @TuckerCarlson did not.

I served with women who risked their lives to protect our country. Tucker did not.

While he denigrates those who serve, our military remains the best fighting force due, in large part, to our amazing servicewomen.

— Rep. Mikie Sherrill (@RepSherrill) March 11, 2021
Let me get this right, Tucker Carlson. She's willing to die for this country and you're not. Remind me who is mocking the US military again. The Swanson heir who applies make-up every night to put on a show or the women brave enough to do your fighting for you? https://t.co/yGyE67JB72

— Cenk Uygur (@cenkuygur) March 11, 2021
Women lead our most lethal units with character. They will dominate ANY future battlefield we're called to fight on. @TuckerCarlson's words are divisive, don't reflect our values. We have THE MOST professional, educated, agile, and strongest NCO Corps in the world. https://t.co/WeqWk6IWDq

— SMA Michael Grinston (@16thSMA) March 11, 2021
I agree Pat . Thousands of women serve honorably every day around the globe. They are beacons of freedom and they prove Carlson wrong through determination and dedication. We are fortunate they serve with us. https://t.co/R4dycOXknl

— GEN Paul E. Funk II (@PaulFunk2) March 11, 2021
This is not the first time Duckworth took a swipe at Carlson, as IJR previously reported.
She responded to Carlson after he suggested in July of 2020 she hates America, "Does [Tucker Carlson] want to walk a mile in my legs and then tell me whether or not I love America?"
Duckworth lost both of her legs while serving in Iraq.