News
Former Army Chief of Staff Explains Why He Believes Biden Terminated Military Board Members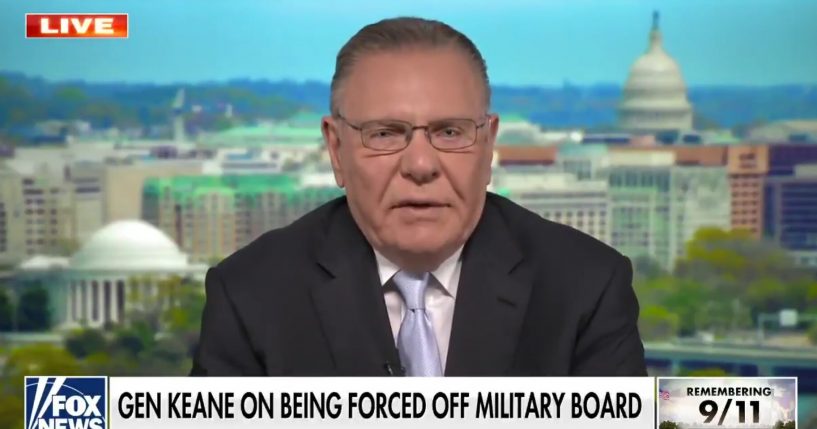 Ret. Army Gen. Jack Keane is responding to President Joe Biden's decision to ask Trump appointees to resign from military academy boards.
During an appearance on Fox News Friday, host Brian Kilmeade played remarks made by White House Press Secretary Jen Psaki about the move.
"What any president's objective is–is to ensure you have nominees and people serving on these boards who are qualified to serve on them and who are aligned with your values," Psaki said. 
Advertisement - story continues below
Keane, who served on the West Point advisory board, was asked if it bothers him.
He replied, "Yeah, it does, of course. It's petty. It's very partisan as you're identifying because the basis for removal is we were appointed by the previous president, President Trump."
Keane continued, "And it's also wrong because what has happened is presidents have always honored the appointments of their previous president who made them so when I joined the board, the appointments from President Obama were there. We never thought of each other as Trump appointees or Obama appointees, we thought of ourselves as the board of visitors entrusted with oversight of something we really cared about."
Watch his remarks below:
Advertisement - story continues below
.@gen_jackkeane discusses the 'shameful' Afghanistan withdrawal as we mark 20 years since September 11. pic.twitter.com/379ULHE0U9

— Brian Kilmeade (@kilmeade) September 10, 2021
Trump appointed Keane to the West Point board in 2019.
Psaki addressed the backlash the president received for his decision during an interview with CNN, as IJR reported.
"No one's looking to have a battle here. The president of the United States, just as every president and every administration and Cabinet members, have the right to appoint people they deem as qualified, as aligned with the administration's priorities to these boards and to any position in the federal government," Psaki said.
Claiming the decision is not "personal," Psaki continued, "I will say that there are some people on these boards who have supported or stood by silently while their former boss supported an insurrection. That's not really okay with us."
Advertisement - story continues below
Former counselor to the president Kellyanne Conway and former White House press secretary Sean Spicer slammed Biden in statements of their own.
Conway told Biden, "I am not resigning, but you should."
Spicer argued, "Instead of focusing on the stranded Americans left in Afghanistan, President Biden is trying to terminate the Trump appointees to the Naval Academy, West Point and Air Force Academy."
Truth and Accuracy
We are committed to truth and accuracy in all of our journalism. Read our editorial standards.
Conversation