News
Insider Questions Whether Trump Can 'Resist' Reaching Out to 'S***Heads' for Campaign: Report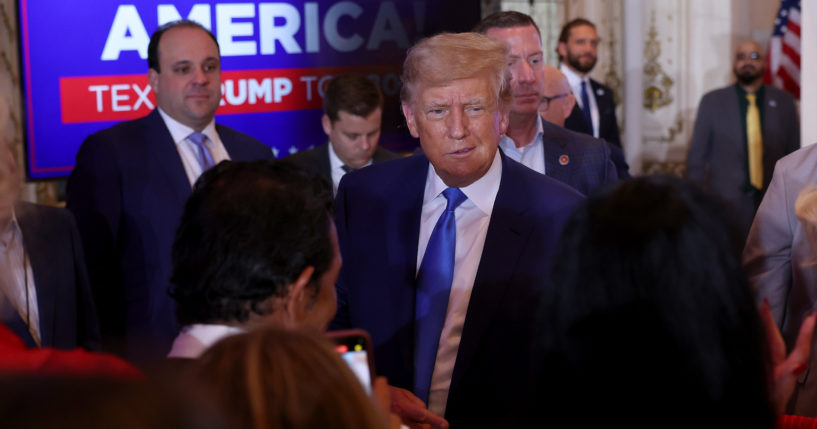 Former President Donald Trump is forming his campaign team for the 2024 election, but one former official is wondering if he can "resist" choosing the wrong people, according to a report.
Time reported a week after announcing he would be running for president for a third time, Trump "has surrounded himself with a tight group of seasoned campaigners and political operatives."
The outlet noted members of Trump's inner circle claim his team "has an expertise and professionalism befitting Trump's frontrunner status for the GOP nomination."
Advertisement - story continues below
 A former Trump White House official told Time, "The list right now is impressive, it's serious."
Still, the official explained, "A key question mark for people is: Can Trump resist the impulse to reach out to s***heads and trust the people he's with that are solid?"
The former president is reportedly depending heavily on Susie Wiles.
She previously helped run Florida Gov. Ron DeSantis' (R) winning campaign in 2018.
Advertisement - story continues below
Trump's former White House spokesman Hogan Gidley said Wiles "knows the ins and outs of grassroots-ground-game politics, and, as well as being the sweet woman that she is, she's also tough as nails—that is a very good combination to have when helping someone run for President of the United States," as Time reported.
Additionally, Trump is relying on Chris LaCivita, a "long-time Republican strategist based in Virginia who was an organizer of Swift Vets and POWs for Truth," according to the report.
Do you think he can resist reaching out to the wrong people?
Joe Grogan, director of Trump's domestic policy council in 2019 and 2020, said, "Trump supporters or people wanting to give him another look should be encouraged by this list of people, and people who want to dismiss him or people who think it's going to be a cakewalk should be worried."
Trump made the announcement last week while standing behind a sign showing his "Make America Great Again" slogan and "2024," as IJR reported.
Not everyone is thrilled with Trump's announcement.
Advertisement - story continues below
President Joe Biden's official White House Twitter account issued a response, saying the former president "failed America."
NPR also noted many in the Republican Party have wondered whether it is a good thing to stay connected to the former president.
Truth and Accuracy
We are committed to truth and accuracy in all of our journalism. Read our editorial standards.
Comment Down Below
Conversation