News
Gavin Newsom Accuses the Supreme Court of Opening 'The Door to Legal Vigilantism' in Texas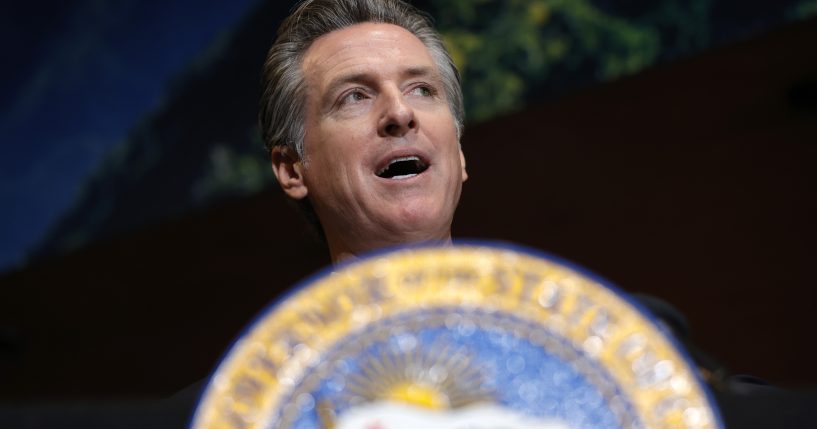 California Gov. Gavin Newsom (D) says his state will "walk through" the door opened by the Supreme Court's Texas ruling to save lives.
Earlier this month, the Supreme Court paved the way for abortion providers to challenge a Texas law banning abortions after six weeks. Still, the court has not blocked the law in the meantime.
It allows private citizens to sue anybody who provides an abortion after six weeks.
Advertisement - story continues below
In an op-ed published by The Washington Post titled, "The Supreme Court opened the door to legal vigilantism in Texas. California will use the same tool to save lives," Newsom argued, "It's outrageous that the Supreme Court continues to allow Texas to use the threat of civil lawsuits to nullify women's constitutional right to control their own bodies."
He added, "But if this kind of lawmaking is fair play, then California will at least use this tool to save lives instead of harming them."
Newsom noted he urged California's legislature to send him a bill using a similar method to "take action against those who produce or sell assault weapons and 'ghost guns'" in his state.
He acknowledged opponents have "argued that California should not follow Texas down this path of vigilante justice."
Advertisement - story continues below
The governor continued, "I understand the concern. But I strongly disagree."
Newsom explained as long as "this door is open to states, we're going to walk through it, too, to protect Californians and bolster our common-sense gun laws that have come under attack."
Do you agree with Newsom?
He went on to suggest the proposal would not "chill a constitutional right." Newsom pointed out weapons of war or homemade "ghost guns" evading regulation are not protected by the constitution.
"Maybe California's move will lead the court to change its mind about allowing Texas's bounty-hunter scheme," Newsom wrote.
The Democrat acknowledged critics argue the plan could never work.
Advertisement - story continues below
"They say that this Supreme Court will not blink at upholding a Texas abortion ban while striking down a California gun ban. But there is no principled way to do that," Newsom said.
Calling the Texas decision an "abomination," he added, "I'm proud to respond not with quiet complicity but with action to protect women's rights and keep our communities safer."
New York Attorney General Letitia James (D) recently told "The View" when she heard about Newsom's plan, she told her team, "'We need to follow his lead.'"
Truth and Accuracy
We are committed to truth and accuracy in all of our journalism. Read our editorial standards.
Comment Down Below
Conversation