News
Glenn Youngkin Argues Virginia's Parents Should Be Able to 'Decide What's Best for Their Children'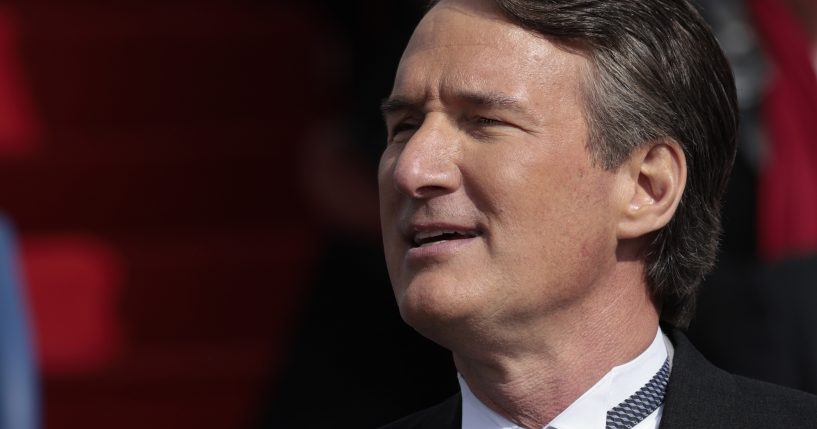 Virginia Gov. Glenn Youngkin (R) says he will continue to work to empower parents "in the education and well-being of your children."
In an op-ed published by The Washington Post titled, "Virginia's parents can decide what's best for their children," Youngkin argued parents should have a say in their children's education.
"In November's election, Virginians came together to declare that too many local leaders were failing a generation of schoolchildren. Students deprived of a quality education, teachers who are underpaid and overw​​orked, and parents deserving a voice in their children's schooling fueled a movement to end the government's one-size-fits-all approach," Youngkin wrote.
Advertisement - story continues below
He added, "The will of Virginians was clear: Parents should have a say in education."
Youngkin explained Virginia needs to adjust its approach to the COVID-19 pandemic.
"A path through the end of this pandemic is possible while also respecting individual freedom and choice. We can keep kids in school, provide a parental opt out to mask mandates, and protect lives and livelihoods," he said.
The governor mentioned the executive order he signed on the first day of his administration "that delivered on a promise I made to parents, empowering them to make decisions regarding their children."
Advertisement - story continues below
He noted the executive order ensures that parents can "opt out their kids from a school's mask mandate."
Youngkin continued, "It bans neither the wearing of masks nor the issuing of mask mandates. Parents can now choose whether wearing a mask at school is right for their child. There is no one better to determine what is best for children, especially after two years of a pandemic, than their parents. And only they should be able to decide whether wearing a mask in school is the right choice for their children."
Should parents be able to "decide what's best for their children"?
He acknowledged how the pandemic has affected children and suggested that "we need to recognize the potentially damaging impacts of mask-wearing on some children."
The op-ed argues parents have "had enough with the government dictating how they should raise their children."
Concluding his piece, Youngkin urged school boards to listen to parents, adding, "To parents, I say: We respect you. And we will continue to work to empower you in the education and well-being of your children."
Advertisement - story continues below
His op-ed comes just a day after seven school boards filed a lawsuit against him, as IJR reported.
They filed the lawsuit against Youngkin to stop him from enforcing the mask-optional order, saying it violates the Virginia Constitution.
Last week, a group of Virginia parents also filed a lawsuit asking the Virginia Supreme Court to block the order.
Truth and Accuracy
We are committed to truth and accuracy in all of our journalism. Read our editorial standards.
Comment Down Below
Conversation