News
GOP Governor Lays Out Plan to 'Alleviate the Burden' of Soaring Gas Prices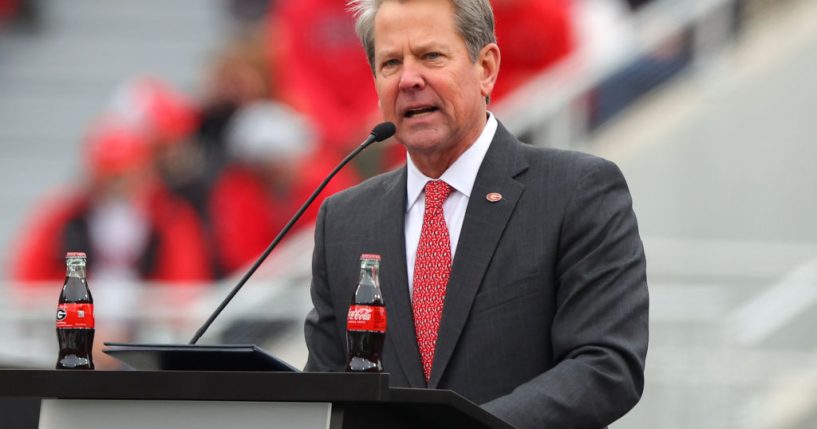 As gas prices continue their upward march, a Republican governor is laying out a plan to try to alleviate pain at the pump.
In a statement, Georgia Gov. Brian Kemp (R) noted there has been a 55% increase in the price of gas since March 2021. He also vowed to work with the Georgia Lt. Gov. Geoff Duncan (R) and the state's House Speaker  David Ralston (R) to "take measures to alleviate the burden placed on Georgians."
"President Biden took office in January of 2021, and to understand why we are in this current state of record-high inflation and costs to the average American family, people can simply track his first year of misguided policy decision," he said in a statement.
Advertisement - story continues below
He continued, "Because of our strong, fiscally conservative approach to budgeting, Lt. Governor Duncan, Speaker Ralston, and I can confidently propose a state motor fuel tax suspension to curb sky-high gas prices while also returning money back to hardworking Georgians through a tax refund and an income tax cut.
"With this latest measure, we are making it even more clear that in Georgia, we are going to empower families to keep their money in their own pockets," the governor added.
According to AAA, the average price for a gallon of gas nationally is $4.31. And the average price in Georgia is $4.26.
The American Petroleum Institute reports that Georgia has a state excise tax of 28.7 cents. With state and federal taxes combined, Georgians pay 55.95 cents more for a gallon of gas.
Advertisement - story continues below
Duncan praised Kemp for "delivering bold leadership that will provide crucial relief for Georgians at the gas pump."
Kemp's statement comes after President Joe Biden announced that the U.S. would ban Russian imports of oil.
Do you think states should suspend their gas tax?
After that announcement, Biden warned that gas prices would "go up" but later said, "Can't do much right now [to address price increases]. Russia's responsible."
Conservatives are calling for the U.S. to ramp up domestic oil production to increase supply and help bring prices down. But, according to CNN, it could take at least six months for new oil drilling to make an impact.
Truth and Accuracy
We are committed to truth and accuracy in all of our journalism. Read our editorial standards.
Comment Down Below
Conversation