News
GOP Rep Takes Aim at the 'Squad' Over Reaction to Omar's Removal: 'Drama Queens'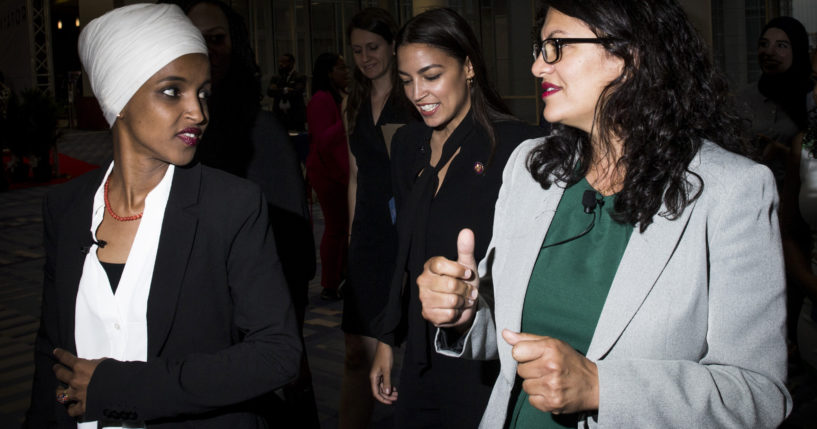 Rep. Nancy Mace (R-S.C.) took issue with the way members of the "Squad" reacted to Rep. Ilhan Omar's (D-Minn.) removal from the Foreign Affairs Committee.
During an appearance on Fox News Friday, host Brian Kilmeade played back the reactions of Omar, Rep. Alexandria Ocasio-Cortez (D-N.Y.) and Rep. Rashida Tlaib (D-Mich.) to the removal.
When asked for her reaction, Mace said, "I would say that was complete drama queens on full display. And there's no surprise there that they would use racism as an excuse. They weren't there two years ago when Marjorie Taylor Greene and Paul Gosar were being kicked off."
Advertisement - story continues below
She added, "They weren't using that as an excuse. And it's really unbelievable. But it's very typical of the 'Squad' to see that kind of behavior on the floor."
Watch the interview below:
Mace is not the only one who criticized the lawmakers for their reactions.
Advertisement - story continues below
Ocasio-Cortez was mocked after she was seen throwing her notebook down on the House floor after delivering remarks, IJR reported.
"Don't tell me this is a condemnation of antisemitic remarks when you have a member of the Republican caucus who has talked about Jewish space lasers," Ocasio-Cortez said.
Were they acting like "drama queens"?
She continued, "This is about targeting women of color in the United States of America. Don't tell me because I didn't get a single apology when my life was threatened."
During Omar's remarks, she noted she is a Muslim.
"I am an immigrant. And interestingly, from Africa. Is anyone surprised that I am being targeted? Is anyone surprised that I am somehow deemed unworthy to speak about American foreign policy?" Omar said.
Advertisement - story continues below
The decision to remove her from the committee came after House Speaker Kevin McCarthy (R-Calif.) blocked Reps. Adam Schiff (D-Calif.) and Rep. Eric Swalwell (D-Calif.) from serving on the intelligence committee.
Truth and Accuracy
We are committed to truth and accuracy in all of our journalism. Read our editorial standards.
Comment Down Below
Conversation