Graham Warns Against Calling Witnesses at Trump's Impeachment Trial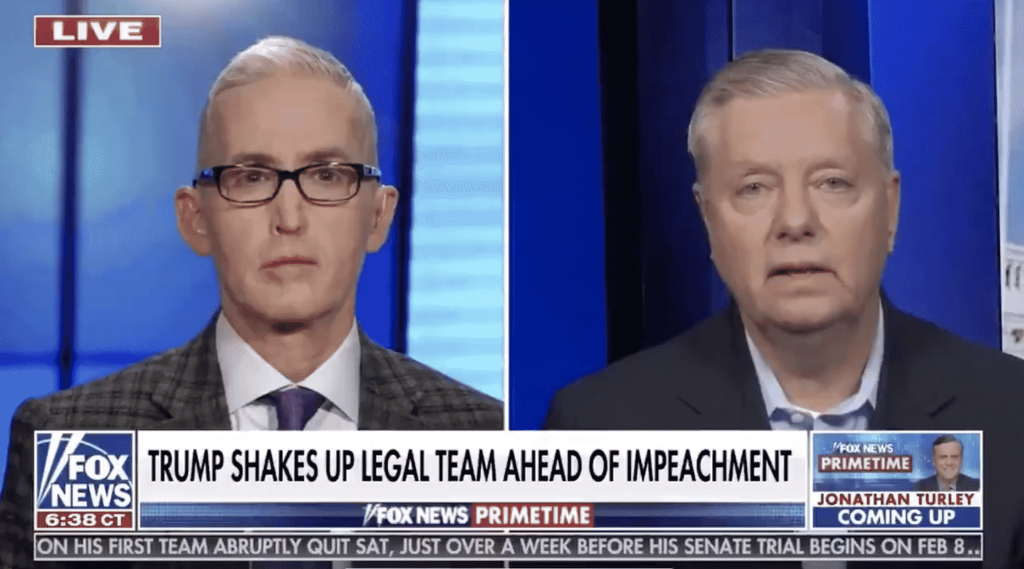 Sen. Lindsey Graham (R-S.C.) is warning Democrats to avoid calling witnesses at former President Donald Trump's Senate impeachment trial.
During an appearance on Fox News on Monday, Graham warned calling witnesses would only prolong the process.
"If the House managers want to use this as a political commercial against Donald Trump and Republicans, and they want to call witnesses now they didn't call during the impeachment process in the House, this thing could go for weeks or months and that would be bad for the country," Graham said.
He continued, "To my Democratic colleagues, if you vote to call one witness, none were called in the House, get ready for a long trial."
Watch the video below:
Lindsey Graham repeats his warning not to call witnesses during the trial. He says if Democrats vote to call a single witness, "we'll want the FBI to come in" pic.twitter.com/FqtDfUBWdL

— Acyn Torabi (@Acyn) February 2, 2021
Guest-host Trey Gowdy asked Graham if he expects witnesses will be called and cross-examined.
"I hope not. They didn't call any in the House, I think we know what happened that day. But, if you open up that can of worms, we'll want the FBI to come in and tell us about how people actually pre-planned these attacks and what happened with the security footprint at the Capitol," Graham explained.
He added, "You open up Pandora's box if you call one witness, I hope we don't call any and we vote and get this trial over next week when it starts."
In January, Graham urged Senate Minority Leader Mitch McConnell (R-Ky.) to declare the impeachment of Trump "unwise" and "unconstitutional," as IJR previously reported.
He also told his Republican colleagues voting to convict Trump on the charge of "incitement of insurrection" would only harm the Republican Party and nation.
"If we embrace an unconstitutional impeachment of Donald Trump after he's out of office, it will destroy the party. The Republican Party wants to move forward," Graham said during an appearance on Fox News last month.
Trump's impeachment trial is expected to begin on Feb. 9.
The former president announced his new legal team on Sunday, as IJR reported. David Schoen and Bruce L. Castor, Jr. will be leading Trump's defense team.