Harris Receives Second Dose of Coronavirus Vaccine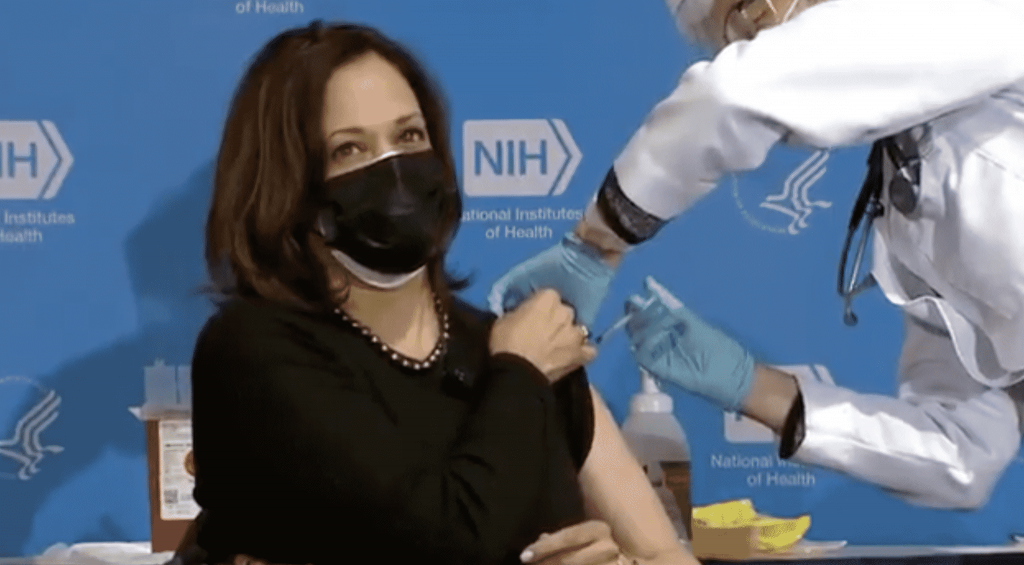 Vice President Kamala Harris publicly received her second dose of the COVID-19 vaccine.
As she was receiving the vaccine, Harris joked, "When are you going to put it in."
She added, "It was really painless."
Harris expressed her appreciation for the individuals at the National Institutes of Health (NIH) and explained the significance of the agency.
"The importance of NIH is that this is about an essential function of government, which is to provide for the public health. The work that happens here has one goal, to improve public health. And the importance of the pursuit of the work that happens at NIH, is that it's not about profit. It's about the people," Harris said.
Watch her remarks below:
.@VP Kamala Harris: "On behalf of President Biden and myself, I thank you for everything you do every day." pic.twitter.com/vbqtmQAyRz

— The Hill (@thehill) January 26, 2021
She went on to urge Americans to get vaccinated when they can.
"These scientists, these medical professionals, doing the work of pursuing what is in the interest of the public health have been a big part of the vaccine that I just took," Harris said.
She continued, "They, through the research, through the dedication, created something that will save your life and the life of your family and the community and so I want to urge everyone to take the vaccine when it is your turn."
Harris had a similar message when she received the first dose of the vaccine, as IJR previously reported.
"I trust the scientists and it is the scientists who created and approved this vaccine. So I urge everyone, when it is your turn, get vaccinated. It's about saving your life, the life of your family members, and the life of your community," Harris said last month.
Americans will likely have to wait a little while longer to get vaccinated after White House Press Secretary Jen Psaki told reporters not every American will be eligible to receive the vaccine by the spring, as IJR reported.