News
Joy Reid Claims Fox News, GOP Want COVID Variant Surge to 'Burn Brighter Than a Fox News Christmas Tree'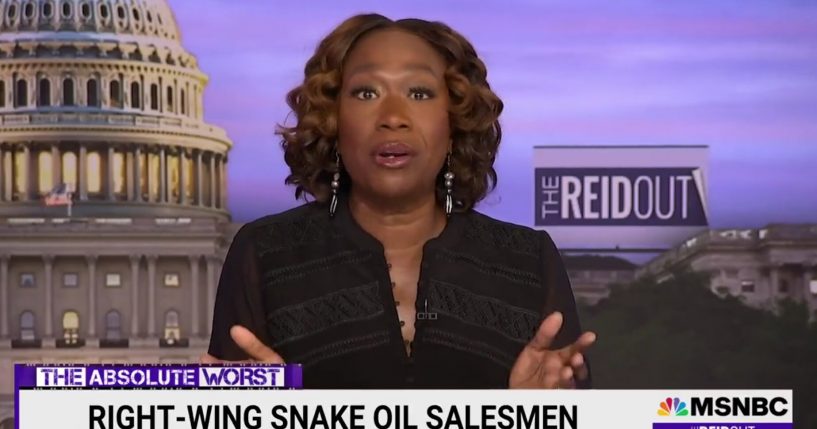 MSNBC's Joy Reid slammed Fox News and Republicans, giving them the title of the "Absolute Worst."
Opening her show Thursday night, Reid mentioned comments made by Sen. Ron Johnson (R-Wis.) about how to treat COVID-19.
"One of those Republicans is touting a new fake cure. This time it's elected snake oil salesman Ron Johnson who says gargling mouthwash kills Covid," Reid said.
Advertisement - story continues below
She added, "Do not listen to this fool. Senator Johnson is not a doctor or a scientist."
Reid then turned her attention to an interview Fox News' Tucker Carlson conducted with British politician Nigel Farage about U.K. Prime Minister Boris Johnson's experience with the virus.
"Getting COVID emasculated him, it changed him, it feminized him, it weakened him as a man," Carlson said, adding, "The virus itself, this is true, does tend to take away the life force in some people I notice. I mean, it does feminize people. No one ever says that, but it's true."
Reid responded, "Ok, Tuckumspoo. Let's unpack your woman-hatin' for just a bit. It's like textbook misogyny, this baseline retro variation where weak equates female."
Advertisement - story continues below
She continued, "Even though women, through a long, painful, and awe-inspiring process are how lives are created and the reason the human race forges on. It is women who are the life force, not weak-chinned blokes who ditch their bowties for fake log cabins."
Watch her comments below:
In tonight's "Absolute Worst," @JoyAnnReid slams U.S. Sen. Ron Johnson for making the false and dangerous claim that gargling with mouthwash kills #COVID19. #TheReidOut #reiders pic.twitter.com/9XdU8IgCyO

— The ReidOut (@thereidout) December 10, 2021
The MSNBC host commented on those who are opposed to the vaccine.
"This is happening in every state – red, blue, and purple. It is dangerous, lethal. And it comes as we face a possible surge from Omnicron. The Republicans and Tuckums wanna see that surge burn brighter than a Fox News Christmas tree, which is why they are tonight's Absolute Worst," Reid claimed.
Advertisement - story continues below
Earlier this week, the tree outside the Fox News headquarters in New York was set on fire. A New York Police Department spokesperson told The Washington Post they arrested Craig Tamanaha and charged him with lighting the tree on fire.
"Upon arrival, officers observed the male running from the location, and he was taken into custody without further incident," the spokesperson told the outlet. "The fire within the tree was extinguished without further injury or incident by responding FDNY personnel."
Truth and Accuracy
We are committed to truth and accuracy in all of our journalism. Read our editorial standards.
Comment Down Below
Conversation