News
'Hopefully There Will Be Yellow School Buses': Kamala Harris Impersonator Shares State of the Union Preview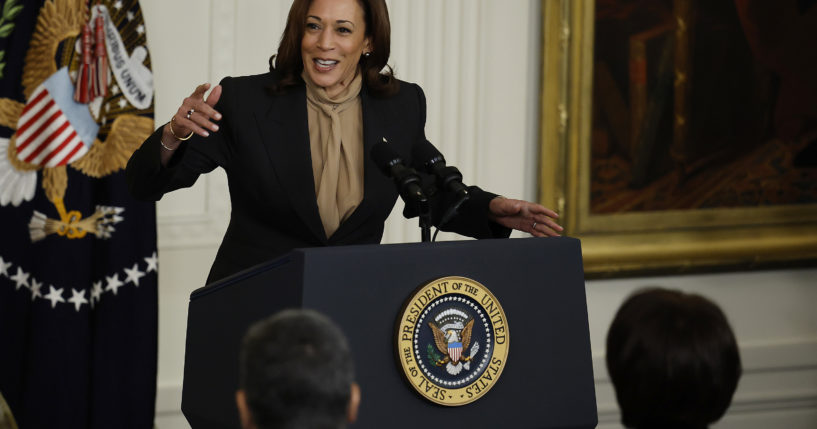 A woman who impersonates Vice President Kamala Harris shared how she believes she would react to the State of the Union address.
During an appearance on Fox News Thursday evening, social media influencer Estee was asked to do her impression of Harris' "cackle."
She said, "Hello America," as she laughed as Harris.
Advertisement - story continues below
Host Tucker Carlson asked Estee how her friends and family react to the cackle.
"Sometimes they leave the room. It really depends on what team they're playing for. But for the most part, it turns heads for sure. I think I fine-tuned it down to get it to sound just like her," Estee explained.
When asked for a preview of the upcoming State of the Union, Estee as Harris replied, "Well, Tucker, I really want to make sure that we can galvanize our time. And when we get there, we want to lead Joe into the passage of time. But really, we don't want it to be too much into the passage."
She continued, "We're going to have a Venn diagram explaining everything. And hopefully, there will be yellow school buses."
Advertisement - story continues below
The social media influencer noted that she downloaded TikTok during the COVID-19 pandemic.
"One of the followers told me that I had actually sounded like her and I replied to the video and, after that, the requests just kept on coming in," Estee said.
Do you think she sounds like Harris?
Due to Harris' speeches and wild remarks, Estee said she has yet to run out of content.
Watch the video below:
She nailed it..

Estee, a Kamala impersonator, joins Tucker Carlson and gives a preview of State of the Union:

"We're gonna have a Venn diagram explaining everything, and hopefully there will be yellow school buses." pic.twitter.com/g9HSCet49y

— Deplorable4trump2024 (@PTRUMPFORTX2020) February 3, 2023
Advertisement - story continues below
Harris previously went on a rant about how much she loves school buses and rambled about the significance of the passage of time.
She has also had many memorable moments during which she laughed awkwardly.
During a trip to Poland in March of 2022, Harris laughed when asked about Ukrainian refugees, as IJR previously reported.
At the time, a reporter asked Harris about suggestions that the refugee system is "essentially not set up" for them and "will collapse."
Advertisement - story continues below
The reporter added, "I'm wondering what the United States is going to do more specifically to set up a permanent infrastructure and relatedly, is the United States willing to make a specific allocation for Ukrainian refugees?"
"Okay," Harris said as she started laughing while looking over at Poland's President Andrzej Duda, adding, "A friend in need is a friend indeed."
The vice president went on laughing after her remark.
Truth and Accuracy
We are committed to truth and accuracy in all of our journalism. Read our editorial standards.
Comment Down Below
Conversation