News
Kennedy Finds Biden's Response To Unrest in Cuba 'Disgusting'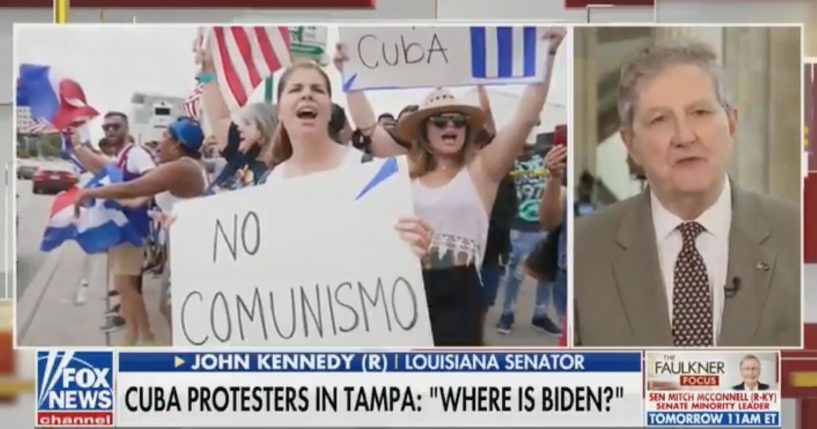 Sen. John Kennedy (R-La.) is voicing his frustration with President Joe Biden following his response to the unrest in Cuba, calling it "disgusting."
"What's happening in Cuba is – it's a contradiction for me. It's both beautiful, but it also disgusts me to my core. It's beautiful because what we're seeing is people's innate thirst for freedom. Our desire for freedom is deeply seeded. It's almost part of the human condition. And the Cuban people want their freedom," Kennedy said during a Fox News interview Wednesday.
The lawmaker said he believes "we ought to do everything we can to support the people, the good people of Cuba."
Advertisement - story continues below
Kennedy proceeded to tear into Biden, saying the president has not done enough.
"What I find disgusting is the fact that all President Biden has done is issue a press release. That's it. I don't even know if he read the thing. President Biden needs to be on the telephone," Kennedy explained.
He added, "He needs to be calling the leaders of the UK, of Canada, of New Zealand, of Australia, of India, of Japan, of South Korea, of the European Union, and saying let's issue a joint statement supporting the people of Cuba. Let's talk about additional sanctions on the Castro government. We've got the Castro government down now, the people have. Let's choke him to death."
Watch the video below:
Advertisement - story continues below
Senator John Kennedy reacts to the situation in Cuba, saying that socialism "is just trickle-down poverty."

Joe Biden "was playing frisbee in the quad during History 101." pic.twitter.com/PATkjqIPea

— Townhall.com (@townhallcom) July 14, 2021
Biden released a statement after thousands of Cubans took to the streets to speak out against a worsening economy and called for President Miguel Diaz-Canelto to step down, as IJR reported.
"We stand with the Cuban people and their clarion call for freedom and relief from the tragic grip of the pandemic and from the decades of repression and economic suffering to which they have been subjected by Cuba's authoritarian regime," Biden said.
He continued, "The Cuban people are bravely asserting fundamental and universal rights. Those rights, including the right of peaceful protest and the right to freely determine their own future, must be respected. The United States calls on the Cuban regime to hear their people and serve their needs at this vital moment rather than enriching themselves."
Truth and Accuracy
We are committed to truth and accuracy in all of our journalism. Read our editorial standards.
Comment Down Below
Conversation