News
Kinzinger Chokes Up While Addressing Police Officers: 'You Guys Won'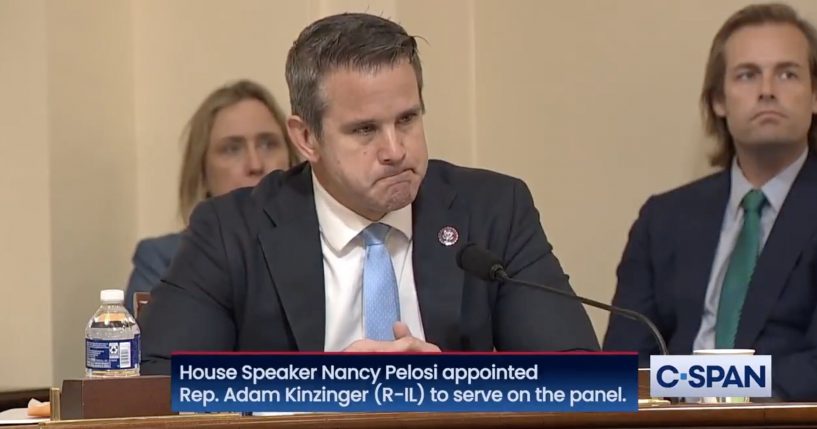 Rep.  Adam Kinzinger (R-Ill.) teared up while addressing police officers during a select committee hearing on the Jan. 6 riot at the U.S. Capitol, telling them, "You guys held."
After thanking the police officers, Kinzinger explained, "I never expected today to be quite as emotional for me as it has been."
He acknowledged they might "feel a little broken," adding, "But you guys won. You guys held. Democracies are not defined by our bad days. We're defined by how we come back from bad days, how we take accountability for that. For all the overheated rhetoric surrounding this committee, our mission is very simple, it's to find the truth, and it's to ensure accountability."
Advertisement - story continues below
Watch the video below:
.@RepKinzinger to police officers testifying on January 6th: "You guys may like individually feel a little broken…but you guys won. You guys held."

Watch full video here: https://t.co/G7q6W7l6Uq pic.twitter.com/8HJRpQEWFl

— CSPAN (@cspan) July 27, 2021
The four officers testifying on Tuesday include, Harry Dunn and Aquilino Gonell of the U.S. Capitol Police and Michael Fanone and Daniel Hodges of the Washington, D.C., Metropolitan Police Department.
Rep. Liz Cheney (R-Wyo.) asked Gonell how he felt about former President Donald Trump's claim that the crowd that gathered at a rally before the attack was "loving."
Advertisement - story continues below
Gonell replied, "It's upsetting. It's a pathetic excuse for his behavior, for something that he himself helped to create — this monstrosity. I'm still recovering from those hugs and kisses that day… So many rioters, terrorists were assaulting us that day. If that was hugs and kisses, then we should all go to his house and do the same thing to him."
He continued, "To me it's insulting, it's demoralizing because everything that we did was to prevent everyone in the Capitol from getting hurt and what he was doing — instead of sending the military, instead of sending the support or telling his people, his supporters, to stop this nonsense — he egged them to continue fighting."
Cheney also delivered an opening statement, calling on Congress to act, as IJR reported.
"If those responsible are not held accountable, and if Congress does not act responsibly, this will remain a cancer on our constitutional Republic," Cheney said.
Truth and Accuracy
We are committed to truth and accuracy in all of our journalism. Read our editorial standards.
Comment Down Below
Conversation