News
Laura Ingraham Mocks Kate McKinnon's Impression of Her During Reaction to SNL Skit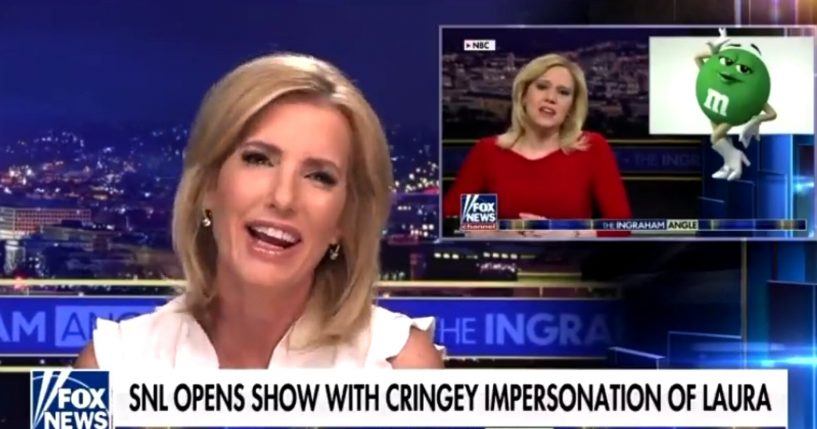 Laura Ingraham reacted to an SNL skit featuring Kate McKinnon's impression of the Fox News host.
Mocking Ingraham, McKinnon said, "Well, we're finally done with year one of Biden's presidency, and can we all admit it's a disaster? Inflation's out of control, gas is at $19 a gallon. And the green M&M has been canceled just for being a whore."
Ingraham did her own impression of McKinnon doing an impression of her.
Advertisement - story continues below
"Now, there's a reason I like Kate McKinnon. I have so much respect for her as a talent. She's so evenhanded in her political commentary. But seriously think of all the low-hanging fruit provided by Joe Biden and Nancy Pelosi, little Petey B., and the Squad on a near-daily basis. I mean, I think this is kind of comedy gold, don't you?" Ingraham said.
Returning to her normal voice, Ingraham added, "I like doing Kate McKinnon doing me because she's kind of fun. She's very evenhanded in her political humor. People say she doesn't make fun of the other side. I'm sure she does. Wait, They are telling me she doesn't? She has to. Okay! I'll come in."
Ingraham explained she would "come into SNL – I've actually hung backstage a few times, you didn't know I was there – I'll do Nancy Pelosi–impression of Pelosi for free. I'm a member of SAG, but I'll do it for free, okay?"
Check out the video below:
Advertisement - story continues below
Laura Ingraham impersonates Kate McKinnon impersonating Laura Ingraham. pic.twitter.com/brct0BWI8v

— Mike Sington (@MikeSington) January 25, 2022
Another segment of the show featured McKinnon as Ingraham and Aidy Bryant as Sen. Ted Cruz (R-Texas).
"Beard's still going strong, huh, Ted?" McKinnon said.
Bryant responded, "My beard is like January 6, shocking at first, but sadly it's been normalized."
The show poked fun at Cruz's recent apology for referring to the riot as a "terrorist attack."
Advertisement - story continues below
Please welcome Ted Cruz to The Ingraham Angle pic.twitter.com/h2nPgwnfWc

— Saturday Night Live – SNL (@nbcsnl) January 23, 2022
"I never should have called them terrorists… I like them a lot. I mean, they're my cool friends," Bryant said.
Mocking Cruz over his trip to Cancun during Texas' storm crisis in February 2021, Bryant added, "I'd like to remind all my fellow Texans watching at home that February's going to be a cold one, so you might want to book your vacay to Cancun now. Live mas everybody."
Truth and Accuracy
We are committed to truth and accuracy in all of our journalism. Read our editorial standards.
Comment Down Below
Conversation