News
Lauren Boebert Taking Legal Action Against Democrat PAC Over 'Paid Escort' Claim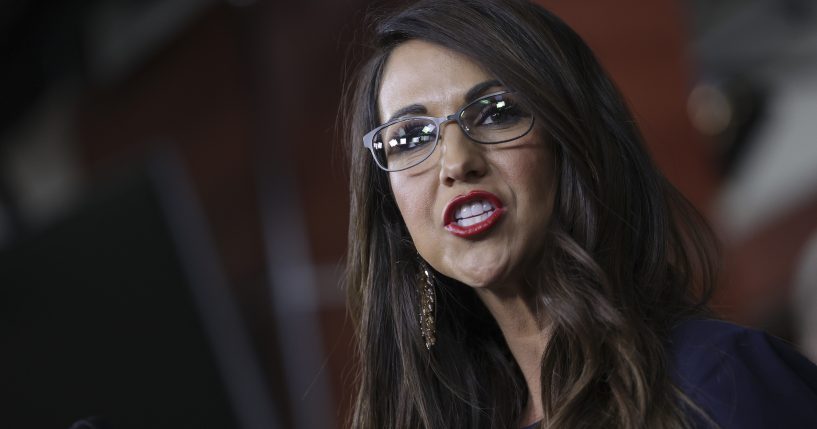 Rep. Lauren Boebert (R-Colo.) will file lawsuits against the Democrat political action committee (PAC) over a claim it made about her.
According to Fox News, the PAC claimed Boebert was an "unlicensed paid escort."
The attorney for Boebert sent a letter to the American Muckrakers PAC addressing claims that she was an "unlicensed paid escort" who had "two abortions."
Advertisement - story continues below
Her attorney vowed to bring "civil defamation" lawsuits against the PAC, as Fox News reported.
Boebert told the outlet in a statement, "Partisan organizations putting out blatantly false and disgusting accusations won't stop me from advancing freedom and conservative values."
She added, "This group's vile conduct demonstrates why people are fed up with politics. I am not going to stand by and pretend this is normal behavior."
Boebert accused the committee of publishing "pages of false statements knowing they were completely fabricated."
Advertisement - story continues below
She continued, "The law on this type of defamation is clear and this conduct will be subject to civil and criminal penalties. Attached is a letter from my attorney introducing our response to these lies." 
Boebert's attorney Jonathan Anderson wrote in the letter that the PAC published "a series of false and defamatory statements" about her.
He noted while "Muckrakers has marketed itself as a 'watchdog group,' the truth is that Muckrakers is a political committee that exclusively opposes conservative candidates, is funded by established Democrat donor sources, and is managed by Democrat political operatives."
Anderson argued they have "irrefutable evidence that each one of these statements is patently false. You knew this though."
The letter continues, "Muckrakers published these outlandish statements knowing they were fabricated but you likely operated under the inaccurate assumption that publishing false statements against a public figure would not create legal liability."
Advertisement - story continues below
Anderson said it "will be a costly miscalculation for Muckrakers, Wheeler and Muckrakers' donors."
In the press release, the PAC claimed Boebert "met clients through SugarDaddyMeet.com."
It's not so much that Lauren Boebert was a paid prostitute, it's that she wants to outlaw abortions after having them. pic.twitter.com/wiS6gBINfq

— Liam Nissan™ (@theliamnissan) June 14, 2022
The press release claimed, "According to our investigation, in 2019, Boebert was hired by a wealthy male client in Aspen, Colorado, who was a Koch family member."
Advertisement - story continues below
The rich client then allegedly introduced her to Sen. Ted Cruz (R-Texas).
It stated that she was encouraged by Cruz to run for Congress.
Truth and Accuracy
We are committed to truth and accuracy in all of our journalism. Read our editorial standards.
Comment Down Below
Conversation